What Does it Mean to "Fear the Lord?"
Dr. Roger Barrier, Preach It, Teach It
Tuesday, June 04, 2013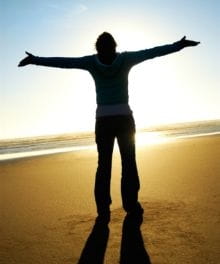 Editor's Note: Pastor Roger Barrier's "Ask Roger" column regularly appears at Preach It, Teach It. Every week at Crosswalk, Dr. Barrier puts nearly 40 years of experience in the pastorate to work answering questions of doctrine or practice for laypeople, or giving advice on church leadership issues. Email him your questions at roger@preachitteachit.org.
Dear Roger,
I recently became a Christian and I have a question. The woman who led me to Christ encouraged me to start reading my Bible immediately. She told me not to start at the beginning and try to read it all from start to finish. She recommended that I start with the Gospels and also read some from Psalms and Proverbs every day. My question is that I keep coming across the term, "the fear of the Lord," as I read Psalms and Proverbs. My friend told me that God is a God of love who loved me enough to give His life for me. She told me that I could love Him back with all my heart. She never told me anything about being afraid of Him. What is going on here?
Sincerely, Britney
Dear Britney,
Most people who come to Christ do so because the one who led them to Christ focused mostly, if not completely, on the love of God (Read John 3:16: For God so loved the world that He gave His only son … ").
Some others come to Christ out of fear. I trusted Christ because I was afraid of going to Hell. I was seven-years-old when God spoke to me about my need to have a Savior to save me from my sins. I was sitting in church when the preacher talked about how people who die without Christ are in danger of going to Hell. This scared the daylights out of me. However, he also talked about Jesus' parable of the shepherd who left his ninety-nine sheep to seek the one lost sheep. I realized that I was that lost sheep and Jesus was searching for me--because He loved me.
In the beginning of our Christian lives we must balance our love for God with our fear of God. It is not a paradox to say that we can love God and can be afraid of Him, too. I loved my parents and I never doubted they loved me. But, when I needed discipline I was afraid of mom or dad as they were coming down the hall!
Too many Christians want, in fact, not so much a Father in Heaven as a "Grandfather in Heaven" – a senile benevolence who, as they say, "liked to see young people enjoying themselves" and whose plan for the universe was simply that it might be truly said at the end of each day, "a good time was had by all."
That is not at all the God of the Bible.
It is OK to begin our Christian lives experiencing the "fear of the Lord." When you read the Bible you will discover that everytime someone in the Bible sees God, it scares the daylights out of them.
In Isaiah 6 the prophet fell face down to the ground in terror when he got a glimpse of God in the sanctuary.
In Matthew 14:22-33 the Disciples were afraid of Jesus when He unleashed a bit of His Deity and stopped the storm on the Sea of Galilee.
In Luke 5:1-11 Peter fell down on his knees in the boat after Jesus supernaturally told him where to find fish. He said to Jesus, "Depart from me; I am a sinful man."
In John 18:1-9 Jesus showed off just a little of His glory in the Garden and the soldiers who had come to arrest Him all fell down in terror.
Have something to say about this article? Leave your comment via Facebook below!
advertise with us
Example: "Gen 1:1" "John 3" "Moses" "trust"
Advanced Search
Listen to Your Favorite Pastors