When Should I Stop Praying for Healing?
Dr. Roger Barrier, Preach It, Teach It
Tuesday, June 05, 2012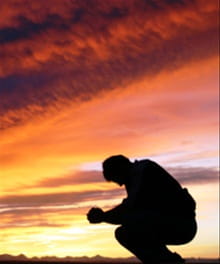 Editor's Note: Pastor Roger Barrier's "Ask Roger" column regularly appears at Preach It, Teach It. Every week at Crosswalk, Dr. Barrier puts nearly 40 years of experience in the pastorate to work answering questions of doctrine or practice for laypeople, or giving advice on church leadership issues. Email him your questions at roger@preachitteachit.org.
Dear Roger,
How many times must I pray for someone to be healed? I have friends who want me to pray again and again for their healing. The call goes out from the church to pray for somebody who is sick and we are encouraged to pray again and again while nothing happens. Frankly, I get rather tired of it sometimes. Is there a limit to how many times we should pray for someone's healing?
Sincerely, Many Questioners Throughout the Years
Dear Many Questioners Throughout the Years,
In some cases three times is enough. Praying any more might actually be a waste of time!
Julie and I were in Turkey when I was invited to a healing service for an American missionary serving in the Middle East. For over ten years he'd asked people to pray for his healing. He was at his wits' end. As we prayed, it became increasingly obvious to me that he was struggling with brain chemistry-neurotransmitter imbalances.
When the prayer time ended I gently told him that it was time to stop praying for healing. "If God hasn't healed you after ten years of praying, then another year will probably not do it either. It seems to me that God's answer to you is, 'No. Stop asking Me. My grace is sufficient for you. I fully intend to pour the power of Christ into your life so that you may live victoriously with the sickness.'"
I've heard and prayed perhaps several thousand prayers for God's healing hand to touch people with complete healing. I've been privileged to witness some great healings. I'll never forget how God brought life back to Ralph, healed the perpetual radiation pain and burns for Vi, and the bright light that overshadowed Tina and healed her in such a way that her upcoming surgery was simply canceled.
However, I suspect that your prayers and results are much like mine. While some are healed, most are never healed. Many receive medical attention that alleviates their problems. Others die from their sicknesses.
I conclude two things: first, it is not always God's will to heal; second, He has reasons that He wants some sicknesses to remain unhealed.
I've thought a lot about Paul's healing prayers for others. There are none—except for the three times He prayed for God to remove the satanic stake twisting in his own flesh.
I am certain that Paul did pray for people to be healed physically, but those prayers were not recorded—perhaps because curing sickness is not nearly such a big deal to the Lord as it is to us.
What Paul's prayers do reveal is his deep concern for the maturing of the internal, eternal human spirit. He never (as far as we have it recorded) prayed for anyone's body to get well; conversely he never stopped praying for the development of the inner person. Let me share a couple of examples.
"I keep asking that the God of our Lord Jesus Christ, ...may give you the Spirit of wisdom and revelation, so that you may know him better. I pray also that the eyes of your heart may be enlightened in order that you may know the hope to which he has called you, the riches of his glorious inheritance in the saints, and his incomparably great power for us who believe" (Ephesians 1:15-19).
Have something to say about this article? Leave your comment via Facebook below!
advertise with us
Example: "Gen 1:1" "John 3" "Moses" "trust"
Advanced Search
Listen to Your Favorite Pastors