When Should I Stop Praying for Healing?
Dr. Roger Barrier, Preach It, Teach It
Tuesday, June 05, 2012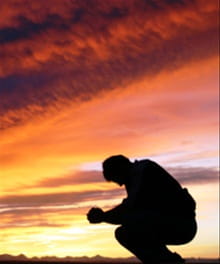 "I pray that out of his glorious riches he may strengthen you with power through his Spirit in your inner being" (Ephesians 3:14-19).
When Timothy was sick with various stomach ailments, Paul did not pray for his healing or send him to the local-Christian faith healer. He advised him that a little wine would be good for his stomach (1 Timothy 5:23).
I think we might do well to follow Paul's example when he prayed for Jesus to remove the "thorn" from his flesh. Three times was enough:
"To keep me from becoming conceited, because of these surpassing great revelations, there was given me a thorn in the flesh, a messenger of Satan, to torment me. Three times I pleaded with the Lord to take it away from me. But, He said to me, 'My grace is sufficient for you, for my power is made perfect in weakness'" (2 Corinthians 12:7-9).
"Thorn" is the Greek word describing a tent stake that is driven into the ground. The Babylonians used the word to describe the sharpened trees used for impaling people. "Torment" is a Greek boxing term meaning, "to beat, to strike with the fist." Paul had a stake impaled in his body tormenting him to keep him humble.
There are four primary guesses as to the nature of Paul's thorn:
First, he was ugly—probably a result of his five beatings with rods, three whippings, and one stoning (2 Corinthians 10:10).
Second, he was incapacitated with malaria contracted in the marshy areas of the southern coast of Turkey.
Third, he struggled with epilepsy which was considered in the ancient world to be caused by demons (Galatians 4:3-14).
Finally, and most probable, he had some sort of debilitating eye trouble. Think about the blind scales falling off of his eyes at his bright-light conversion in the desert, and the comment about his eyes he made to the Galatians (Galatians 4:15; Galatians 6:11; and Acts 23).
I think that we might consider following Paul's example. If we are not healed after three prayers, we might assume that God has other things in mind.
Too often we are obsessed with removing pain and problems. God, on the other hand, is obsessed with sensitizing our inner spirits. God will sacrifice the body every time if that is what it takes to mature the eternal!
We can pray seven times to be healed of cancer; nevertheless, eventually, we will still succumb to death. Life is a terminal disease. Praying for healing is not eternally effective. There are no biblical verses which describe angels rejoicing when bodies are healed. On the other hand, the angels rejoice when a lost sheep enters into eternal life!
Too many Christians beg for God to change their situations and heal their bodies while not having the slightest idea of God's eternal intentions. We must pray to see things from His perspective and interpret the circumstances surrounding our souls and bodies in light of how our requests affect our inner spirits.
To one degree or other, we are all like Paul in our weaknesses. Pray three times for healing. If He answers, "Yes," then rejoice and go on with life. Otherwise, look for a reason why Jesus is saying, "No." If no healing occurs, consider that God wants us to live with it and find grace and strength accordingly.
Have something to say about this article? Leave your comment via Facebook below!
advertise with us
Example: "Gen 1:1" "John 3" "Moses" "trust"
Advanced Search
Listen to Your Favorite Pastors