When Should I Stop Praying for Healing?
Dr. Roger Barrier, Preach It, Teach It
Tuesday, June 05, 2012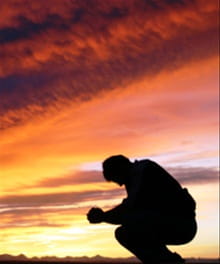 Of course there is more to this story. Just because Paul (and God) handled his thorn in one way does not mean that He will always handle our troubles likewise.
One of the Disciples asked Jesus to teach them to pray (Luke 11:1-13). He shared the Lord's Prayer and then told a parable about a man who received a visitor late at night. It was customary to feed a guest upon arrival. Unfortunately, the man with the guest had no food. This was a big deal in their culture.
So, he went to his neighbor and asked for some bread. HIs neighbor was bedded down for the night and refused to get up. The man seeking bread begged and pleaded but his neighbor refused and refused. Finally, to get rid of him the neighbor got out of bed and gave him some bread.
Then, Jesus said, "Though he will not get up and give you the bread because of friendship, yet because of your shameless persistence he will surely get up and give you as much as you need."
Then, Jesus followed up the parable with these encouraging words, "Ask and it will be given to you. Seek and you will find. Knock and the door will be opened for you." Some translate the three Greek verbs in the imperfect tense as "keep on asking; keep on seeking, and keep on knocking…" However, I think that in this context, translating the imperfect here as ongoing action misses the point of Jesus' parable. The implication as translated here is that we have to keeping praying and pleading with God and if we are persistent enough, He will give us what we ask, seek and knock for. I don't think that this is what He meant.
He continued on to say that if sinful earthly dads know how to give gifts to their children, then how much more will the Heavenly Father give the Holy Spirit to those who ask him.
Matthew records Jesus' follow-up like this:
"Which of you, if your son asks for bread, will give him a stone? Or if he asks for a fish, will give him a snake? If you, then, though you are evil, know how to give good gifts to your children, how much more will your Father in heaven give good gifts to those who ask him!"
When we put the entire passage in context we see that Jesus is doing everything possible to communicate that God is not at all like the sleeping neighbor who had to be pestered and pestered until he finally gave the man that he wanted in order to get rid of him.
Our God is not like that at all. He is a Father who delights to give good gifts to those who ask, seek and knock. We don't ever need to beg, plead and cajole. All we have to do is ask because He can hardly wait to give good things to us.
When I was thirteen, the Dallas doctors told us that I had a hole in my heart and needed surgery to close it. I was only thirteen but I knew how to pray. Praying for God's healing work was as easy as asking mom for breakfast. Without a doubt, many others were praying for me, too.
Two weeks before the surgery I dreamed that God answered the prayers and healed me. It never dawned on me to ask the doctors to recheck. I told mom about the dream and she said, "Oh, well, that is interesting."
Several days later the heart surgeon sat on my bed in the I.C.U. "I hate to tell you," he said, "but we made a terrible mistake. There is nothing wrong with your heart. I held your heart right in my hand, I slit it open to find the hole and there was none. I put it back in and sewed you up. You have a perfect heart."
God was delighted to give me what I'd asked for. I imagine that He was just waiting for the moment when I first asked Him to do His healing work. Unfortunately, I failed to check on His answer, even when He sent me a dream. I've tried to listen to Him more closely ever since.
How many times you pray for healing or the removal of difficulties is between you and God. I am not about to try to limit the times you want to pray for something.
Have something to say about this article? Leave your comment via Facebook below!
advertise with us
Example: "Gen 1:1" "John 3" "Moses" "trust"
Advanced Search
Listen to Your Favorite Pastors