Why Won't God Answer My Prayers For My Children?
Dr. Roger Barrier, Preach It, Teach It
Thursday, November 08, 2012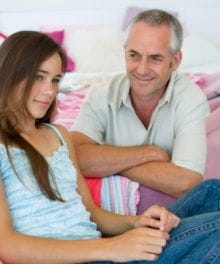 The prayer for pain and suffering is hard to pray—but often necessary. Many wayward souls return to a Christ-like life when events so turn against them that there is nowhere else to look except up!
For effective praying I believe that we must be on what I call, "Praying Ground."
God said, "Take off your shoes, Moses, you are on holy ground." We want a pure and humble heart, and a righteous life when we kneel on holy ground before God in prayer. James declared: "The prayer of a righteous man is powerful and effective" (James 5:16).
Let me share a Biblical checklist to ensure that we are on praying ground so that our prayers are powerful and not hindered.
1. Am I submitting to God's will at any price (Matthew 26:39, Matthew 26:42)?
2. Is the sin in my life cleaned up and confessed (Isaiah 59:1-2 and 1 John 1:9)?
3. Are my motives pure and unselfish (James 4:3)?
4. Is my relationship with my spouse intimate and in order (1 Peter 3:7).
5. Am I praying with faith and belief (Mark 11:25)?
6. Is any unforgiveness tucked away in the recesses of my heart (Mark 11:25)?
One more thing, pray for close relationships with your wayward children. It is easy for parents to become estranged from children who make unwise choices. You want to keep a good relationship with them so that they feel free to come to you when they do want advice. If your relationship with them is solid you can speak into their lives in ways you never can if they don't like or trust you.
Always keep in mind: The Prodigal Son may be just around the corner.
Again, I am sorry you are in pain regarding your children. God never designed it to be this way. May God give you grace to handle these times and peace not to worry about it all the time.
I hope this helps.
Love, Roger

P.S. Remember how answers come:
1. Sometimes immediately (Isaiah 65:24)
2. Sometimes delayed (Luke 18:7)
3. Sometimes different than we asked (Acts 16:6-10)
4. Sometimes we get even more than we ask for (Ephesians 3:20)
5. Sometimes a flat out "No" (2 Corinthians 12:7-9)
Dr. Roger Barrier recently retired as senior teaching pastor from Casas Church in Tucson, Arizona. In addition to being an author and sought-after conference speaker, Roger has mentored or taught thousands of pastors, missionaries, and Christian leaders worldwide. Casas Church, where Roger served throughout his thirty-five-year career, is a megachurch known for a well-integrated, multi-generational ministry. The value of including new generations is deeply ingrained throughout Casas to help the church move strongly right through the twenty-first century and beyond. Dr. Barrier holds degrees from Baylor University, Southwestern Baptist Theological Seminary, and Golden Gate Seminary in Greek, religion, theology, and pastoral care. His popular book, Listening to the Voice of God, published by Bethany House, is in its second printing and is available in Thai and Portuguese. His latest work is, Got Guts? Get Godly! Pray the Prayer God Guarantees to Answer, from Xulon Press. Roger can be found blogging at Preach It, Teach It, the pastoral teaching site founded with his wife, Dr. Julie Barrier.
Have something to say about this article? Leave your comment via Facebook below!
advertise with us
Example: "Gen 1:1" "John 3" "Moses" "trust"
Advanced Search
Listen to Your Favorite Pastors