10 Hymns and Songs for Trusting God in the Midst of Grief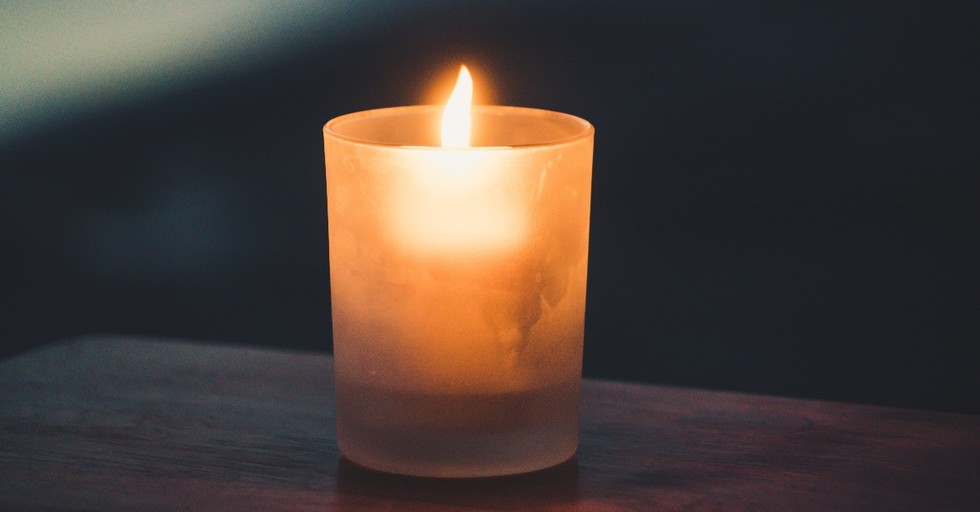 As I heard during a church service recently, "All loss is loss." The guest pastor stood on stage speaking about the recent and sudden death of his wife. One hour she was alive and fine, the next he was rushing home.
He spoke bravely and confidently, as he affirmed the congregation, "All loss is loss."
There are some people who try to minimize their loss by ignoring their feelings, or self-medicating. For others like myself, there are people in their life who downplay grief.
Onlookers say, "It's not a big deal, you'll be fine." or "You should be over that by now."
All loss is loss. These statements are not helpful and on the contrary, are quite hurtful. Most people know the feeling of grief, and if they don't know now, one day they will. Jesus foretold that we would suffer in this world. He didn't say we might suffer, he said that we will.
"I have told you these things so that in me you may have peace. You will have suffering in this world. Be courageous! I have conquered the world." (John 16:33)
Grief takes many forms, from the death of a loved one to the loss of a significant relationship. As people come to learn grief, they will witness their behavior within its five stages. The time spent in each stage will vary between people and the order will differ also.
What Jesus offers is a solution to coping with the grief we experience. No matter where we are in the stages of grief, keeping our connection with God alive is vital. Jesus conquered the world and believes we can do the same.
But do we trust him?
"Rejoice always, pray constantly, give thanks in everything; for this is God's will for you in Christ Jesus." (1 Thessalonians 5:16-18)
I would like to add emphasis to the words always, constantly, and everything. If we honor this verse, that means we are relying on God when we are high and when we are low, including our moments of grief.
One way we can keep our connection with God intact during our difficult seasons of grief is through song. When prayer feels inadequate and we want to do more to connect with God, we can simply turn on a hymn that speaks to the pain of our circumstance.
Sometimes song and dance can make the difference between an evening spent in despair or an evening spent in peace.
Here are 10 hymns and songs for trusting God in the midst of grief.
Photo Credit: © Unsplash/Paolo Nicolello
1. Alabama - Angels Among Us

Slide 1 of 10

Have you ever felt alone, disconnected from God and people, and then someone comes along and says the perfect words to rekindle your spirit? This song highlights these miraculous moments and recounts the people who are "angels."

Whether you see them as literal or metaphorical angels, God uses people to set us on the right course especially when we began straying too far away. Grief can often leave us blind to God's blessings. Instead of seeing what he has done for us, we focus on what he took away.

Before God allowed Job to be restored, he allowed Job to lose almost everything (Job 1:21). We don't always regain what we lose, but if God is our first love, we can rest assured he will never leave us (Hebrews 13:5).

Photo Credit: © Getty Images/mstroz

Source: Alabama Band

2. Marvin Sapp - Not the Time, Not the Place

Slide 2 of 10

These are my favorite lines in the song:

There is hope for the hopeless

There is life for the lifeless

He's a friend to the friendless

He'll give you peace and sweetness

This song encourages me to trust in the Lord every time hopelessness sets in. When I recount the story of the Israelites constantly being saved by God only to then lose their intimate connection with him, I have to consider myself to be just like them. I trust God so fervently when life is swell. Throw me into a season of grief and I begin doubting.

He may seem absent, but he never is. Thank God there is always hope because he has a plan (Jeremiah 29:11).

Photo Credit: © Getty Images/imtmphoto

Credit: Marvin Sapp

3. Kirk Franklin - Wynter's Promise

Slide 3 of 10

In literature, winter is the symbol of death. Just as the trees "die" as they shed their leaves, and some animals "die" as they hibernate, the Earth gets ready to be reborn in spring.

Grief can often feel like the winter season. Nothing blooms and our hearts feel so cold and distant from God and other people. Yet, there is a promise that the song reminds us of.

Heaven is real.

That reality is comforting in the face of any literal or metaphorical death.

Photo Credit: © Unsplash/Noah Benjamin

Source: Kirk Franklin

4. Elevation Worship - Give Me Faith

Slide 4 of 10

This song reminds me of Jesus calming the storm (Matthew 8:23-27).

Sometimes maintaining faith feels like a battle. Jesus wants us to have faith, but our flesh calls us to despair. Grief is never a pleasant feeling, yet, we are called to believe no matter what.

No matter what.

If we find keeping trust in God difficult, we should tell him, and pray that he helps our unbelief (Mark 9:24).

Photo Credit: © Getty Images/Splash of Photography

Source: Elevation Worship

5. DeWayne Woods - Let Go

Slide 5 of 10

If we could control every circumstance in life, there would be no need for God. There is very little we can control. If we are in a season of grief, more than likely we did not choose to be in this season.

Letting go and letting God can be very difficult. When we do though, the reward is peace of mind (Philippians 4:7).

We don't have to live a life of worry when God so eagerly wants to support us. This song is a reminder that no matter our degree of suffering, God hears and he will rescue us.

Photo Credit: © Getty Images/ipopba

Source: GospelMusic TV

6. Fred Hammond - Please Don't Pass Me By

Slide 6 of 10

Are we really any different from the blind man in the song? We have all been displaced in some form or fashion by our sin and fallen short of God's glory (Romans 2:23).

None of us want to suffer, though in some ways maybe our sin nature means we deserve suffering. Nonetheless, Jesus is so eager to heal and to forgive that we can't help but cry out to our Savior.

Those moments of grief are the perfect opportunity to cry out to Jesus.

Photo Credit: © Getty Images/Made Suta/EyeEm

Source: Fred Hammond

7. Kirk Franklin - Imagine Me

Slide 7 of 10

One of the hardest ideas for me to consider is how God can take grief and turn all the pain around into something beneficial. Psalm 23 is a perfect reminder.

"The Lord is my shepherd;

I have what I need.

He lets me lie down in green pastures;

he leads me beside quiet waters.

He renews my life;

he leads me along the right paths

for his name's sake.

Even when I go through the darkest valley,

I fear no danger,

for you are with me;

your rod and your staff—they comfort me."

This song is a great reminder that we can grow from the pain of grief into a better version of ourselves. God is guiding us through every situation in life, not just the good moments.

And when things do get bad, he can renew our life.

Photo Credit: © Pexels/Jonathan Petersson

Source: Kirk Franklin

8. The New Life Community Choir - Standing in the Need

Slide 8 of 10

Can you relate to not feeling like the most faithful, hopeful, or even loving Christian? Sometimes you feel so low, everyone else seems to be doing better than you.

Well, God still sees us. He still cares. No, we are not perfect, but that doesn't mean he wants to hear our prayer any less than anyone else.

This song presents a very humbling experience of not being the "best" Christian, but still always choosing God in our time of need.

Photo Credit: © Getty Images/Boonyachoat

Source: The New Life Community Choir - Topic

9. Fred Hammond - Breathe into Me Oh Lord

Slide 9 of 10

The song references a "spirit of heaviness" that tries to take us away from God. Grief can definitely feel like a heavy burden that we carry around for an unpredictable amount of days.

When we choose to pray no matter how long we suffer, we are giving God access to our minds and hearts to change us for the better. In effect, we choose God over self.

Photo Credit: © Getty Images/Javier Art Photography

Source: Fred Hammond

10. Kirk Franklin - The Storm Is Over Now

Slide 10 of 10

This is a song that celebrates the season after the storm, when the crux of the pain has faded. Grief is one of the worst feelings in life. Wrapped inside of grief is sadness, anger, a lack of control, and there is no telling how long grief will last within you.

Despite all the uncontrollable factors, there is certainty in knowing that the storm won't last always. Jesus foretold that we would suffer in life, but life is more than just suffering. A good season is bound to follow in the aftermath of your storm.

Trusting God through Grief

The coronavirus pandemic was the start to what became the darkest season of my life. Not only was my social life stifled by the social isolation, but I experienced two breakups from the same relationship, the loss of two friendships without any knowledge as to why, and for a time, broken relationships with my immediate family.

Thank God I was blessed with reconciliation with my family. Still, the season was hard. There were many moments where I didn't want to pray, or ask for help. Life grew dark.

In the end, I made my way through once I turned back to God and waited and trusted.

If there is one lesson I want to share with you, it's that God can be trusted in the favorable and unfavorable seasons of life. He doesn't take a vacation from taking care of us.

Thus, nothing happens to us without His knowing.

"Aren't two sparrows sold for a penny? Yet not one of them falls to the ground without your Father's consent." (Matthew 10:29)

Whatever has befallen you and thrust you into a season of grief, God has allowed it knowing you can handle it. And where you struggle he can and will sustain you. Call out to him through worship and prayer. Let any or all of the songs on this list bring you comfort.

You will make it, just as I did.

He hears and he cares. Trust him.

Photo Credit: © Getty Images/whiteson

Source: Kirk Franklin