When Life Is Like a Breath (Psalm 39:5) - Your Daily Bible Verse - December 8
When Life Is Like a Breath (Psalm 39:5)
By Lynette Kittle
"You have made my days a mere handbreadth; the span of my years is as nothing before you. Everyone is but a breath, even those who seem secure" - Psalm 39:5
Have you noticed how time can seem like it's moving fast? Before you know it, ten years ago can seem like yesterday.
Scripture describes how each of our lives is like a breath, explaining, "Why, you do not even know what will happen tomorrow. What is your life? You are a mist that appears for a little while and then vanishes" (James 4:14).
For some, this truth brings great sadness at the thought of the shortness of life. The realization of how days on earth pass by quickly, stirs up feelings of it not being long enough to accomplish all they want to achieve, and of the shortness of time with those they love on earth.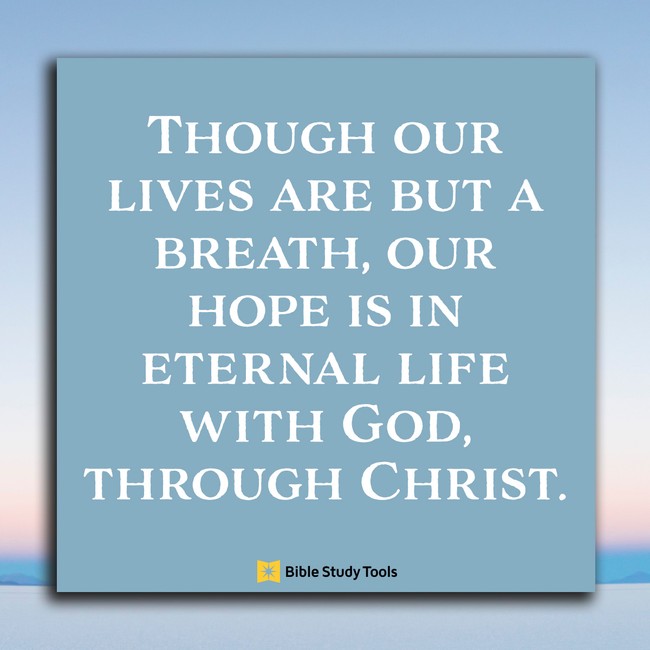 For others, it brings hope that their present-day sufferings will not last forever. Like the Apostle Paul wrote, "I consider that our present sufferings are not worth comparing with the glory that will be revealed in us" (Romans 8:18).
Hope puts into perspective how the sorrows and pains of this life are short-lived in the light of eternity. It gives those whose lives are difficult, those who daily face tough challenges, something to hold onto and look forward to in the future.
As well, understanding life on earth is fleeting encourages those whose lives haven't taken the direction they had hoped it would take, with the promise of a new beginning.
Likewise, it causes some to evaluate their daily decisions, to decide whether putting their own goals and happiness above others is worth the cost of such temporary satisfactions. The brevity of life causes some to make the most of each and every day.
Comparatively, God's time is different than our time. Psalm 90:4 explains it this way, "A thousand years in your sight are like a day that has just gone by, or like a watch in the night."
Because life on earth is so momentary, some may feel like our lives don't really matter to God, asking, "What is mankind that you are mindful of them, human beings that you care for them?"(Psalm 8:4).
Yet John 3:16 describes how God's great love for the world was the motivation for sending Jesus to us. Hebrews 2:9 explains how He came and suffered death for everyone, becoming an atoning sacrifice for our sins so we can receive eternal life (1 John 4:10).
Although earthly lives are fleeting like a breath, it's not an indication of worthlessness to God but rather of His great love and mercy towards us. God offers us life eternal where we'll live forevermore free from all suffering and sorrow.
As Revelation 21:4 describes, "He will wipe every tear from their eyes. There will be no more death or mourning or crying or pain, for the old order of things has passed away."
Although life on earth is brief, our future is bright because God has a much better life ahead for us. Like the popular saying asserts, "The best is yet to come."
---
Lynette Kittle is married with four daughters. She enjoys writing about faith, marriage, parenting, relationships, and life. Her writing has been published by Focus on the Family, Decision, Today's Christian Woman, iBelieve.com, kirkcameron.com, Ungrind.org, Startmarriageright.com, growthtrac.com, and more. She has an M.A. in Communication from Regent University and serves as an associate producer for Soul Check TV.
We want to experience God through the Bible… we really do!
But our good intentions fall flat when reading the Bible just doesn't seem to help us experience God in a real way. What should feel alive often feels confusing and boring and irrelevant. But it doesn't have to.
In the How to Study the Bible podcast, pastor and Bible teacher Nicole Unice brings life back to reading the Bible by walking listeners through her Alive Method of Bible study, helping us personally encounter God through his Word by giving us a practical, clear road map for understanding, interpreting and applying Scripture to our lives. Just click below to start listening now!