What Will Heaven Be Like? - Your Daily Bible Verse - December 2
BIBLE VERSE OF THE DAY: "But you have come to Mount Zion, to the city of the living God, the heavenly Jerusalem." –Hebrews 12:22a
What Will Heaven Be Like?
By Dr. David Jeremiah
Many people picture heaven as a never-ending church service in the sky. Or they think we will all become angels who float around on clouds playing harps for the rest of time. Neither of these make eternity seem very appealing. And both are completely inaccurate according to the Bible. In fact, heaven will be glorious and full of grandeur. We will experience fullness of joy as we live in the presence of God and fellowship with each other. There are so many reasons to look forward to heaven, I want to give you a glimpse of three.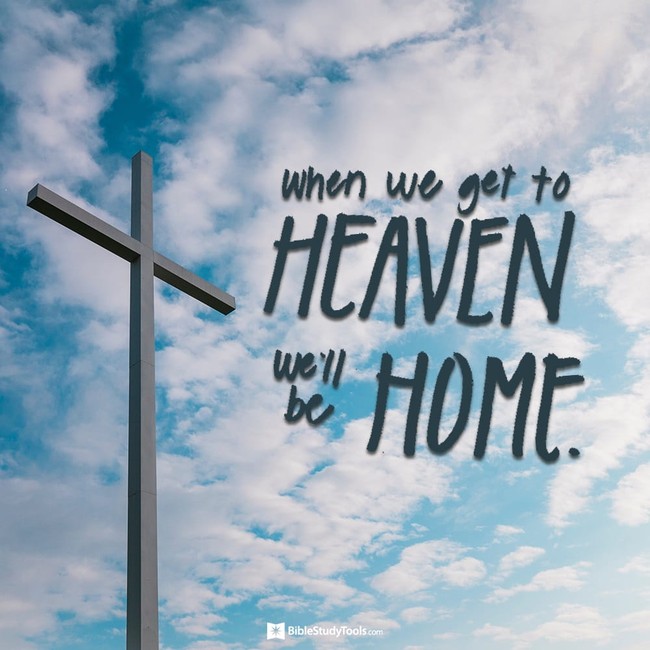 For one, our friendships will be richer. One of the most fascinating glimpses we have of heaven is in Hebrews 12:22-23, a passage that provides a list of heaven's inhabitants.
But you have come to Mount Zion and to the city of the living God, the heavenly Jerusalem, to an innumerable company of angels, to the general assembly and church of the firstborn who are registered in heaven, to God the Judge of all, to the spirits of just men made perfect. Now, who in that group is boring? We're going to spend eternity with God, with His angels, with the Old Testament saints, and with Christians through all the ages. Can you imagine being in an environment like that?
There will be no misunderstandings or tiffs or tension among us. Our relationships will be so much healthier in heaven than here. Down here we have problems even with our closest friends. You know what that's like. Someone says something to you, and you aren't sure how to interpret it. You react to it— perhaps overact. You say to yourself, "I wonder what he meant by that? I wonder why she said that?"
In heaven there will be none of that. Our relationships will be open, honest, interesting, loving, and uncomplicated by sin or our sinful natures. We will dwell with God, the angels, and one another in perfect compatibility and refreshing intimacy.
We will all be together in heaven. It won't make any difference when we lived on earth. Imagine being best friends with people whom we've only read about in the Bible or in books. I'm eager to meet Abraham, Isaac, Jacob, and Joseph. Imagine having all the time we wanted to talk to Augustine, George Muller, Martin Luther, and William Tyndale. We'll be great friends with our missionary heroes—William Carey, Adoniram Judson, Jim Elliot, Hudson Taylor, Amy Carmichael, and Eric Liddell, the Olympic champion who left it all to go to China for Christ.
Heaven is going to be such an incredible time of unlimited fellowship with people who have lived in all ages that I can't begin to comprehend it, but I know it's true. The Lord Jesus even gave us a glimpse of this on the Mount of Transfiguration when He stood there talking to Moses and Elijah, as the twelve disciples listened to the amazing conversation.
And don't get me started on the fellowship we'll enjoy with the angels! In heaven, we'll be part of it all; and all our mentors, heroes, friends, ancestors, and descendants—all who know Jesus—will be there with us!
For more on what the Bible says about heaven, check out David Jeremiah's new book, Revealing the Mysteries of Heaven.
Editor's Note: Portions taken from the article "What Will Heaven be Like?" written by Dr. David Jeremiah. You can read that piece in full here. All rights reserved.
Want to go beyond a minute in the Word today? Continue over to BibleStudyTools.com!
We want to experience God through the Bible… we really do!
But our good intentions fall flat when reading the Bible just doesn't seem to help us experience God in a real way. What should feel alive often feels confusing and boring and irrelevant. But it doesn't have to.
In the How to Study the Bible podcast, pastor and Bible teacher Nicole Unice brings life back to reading the Bible by walking listeners through her Alive Method of Bible study, helping us personally encounter God through his Word by giving us a practical, clear road map for understanding, interpreting and applying Scripture to our lives. Just click below to start listening now!