Will God Bring Vengeance on My Cheating Husband?
Dr. Roger Barrier, Preach It, Teach It
Tuesday, March 06, 2012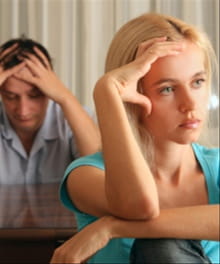 However, the hurt and pain were incredible. I imagined that he would one day beg like the rich man in Hell for Lazarus to dip his finger in the water and give him a drop because he was "tormented in the flames" (Luke 16:19-31).
One night, I had a dream (a nightmare, really). I was a lieutenant during World War Two. We had captured a squad of German soldiers. One of my men asked if we could shoot them. I responded, "Certainly not, we are Americans; we don't shoot our prisoners." Suddenly, one of the Germans turned and I recognized him as my long-time enemy. I screamed, "Shoot him! Shoot him! Shoot him!" Julie shook me awake. My jammies were soaked with cold sweat.
I decided that I'd had enough. Julie and I knelt beside our bed at three in the morning and once more I prayed to forgive him. My unforgiving heart was not costing him a thing. But, the inner, unresolved pain and anger was gnawing away at my soul.
Jesus modeled for us during the crucifixion the proper process for forgiveness.
First, Jesus Mourned His Pains And Received Comfort.
Jesus said in Mathew 5:4: "Blessed are those who mourn, for they shall be comforted."
Mourning and receiving comfort are integral parts of healing and forgiveness. We can mourn alone, but we can't comfort ourselves alone. Somebody else is needed for that.
Listen to the pain in Jesus's voice:"My soul is overwhelmed with sorrow to the point of death" (Matthew 26:38). Does this not sound like mourning? Jesus wanted His Disciples to comfort him. Instead they went to sleep. Fortunately, angels were there to comfort him.
Christians are given a ministry of comfort:
"Praise be to God the Father of our Lord Jesus Christ, the Father of compassion and the God of all comfort, who comforts us in all our troubles, so that we can comfort those in any trouble with the comfort we ourselves have received from God" (2 Corinthians 1:3-4).
Second, Jesus Understood The Truth Of What Was Happening.
"Father, forgive them, for they do not know what they are doing" (Luke 23:34). He was able to forgive because He knew that the Roman soldiers were just doing their jobs.
Your husband and his adulterous girl friend most likely had little idea of how much pain they were causing you and your children. If he only knew the pain and long-term, life changing destruction that his actions were going to cause, he might have thought twice about what he was doing. There is no excuse for his behavior. The truth is that he did a stupid, wicked thing. The truth is, statistically, his new marriage has a 78 percent chance of failing. He most likely he is ignorant of the vast desolation he brought into your life. Like the Roman soldiers, he did not know what he was doing.
Finally, Jesus Forgave Those Who Hurt Him.
After mourning His hurt, and understanding the truth of what was happening, Jesus was able to forgive those who wounded Him. "Father, forgive them," included not just the Roman soldiers. Caiaphas, Herod, Pilate and a host of others were included in the word "them."
Let me share some thoughts for you to consider as you can get past this tragedy. Forgiveness is the only plan Jesus gives for achieving peace and victory as you struggle with your desire for vengeance.
First, forgiving does not mean that we let those who hurt us "off the hook." They need to pay for what they did. This is what justice is all about. When we forgive we may let them off our "hook," but they are still on God's "hook"! Remember the Lord says, "Vengeance is mine." So, let Him do His work. He dispenses justice in His own time.
Second, forgiving is not a sign that we're weak. Forgiveness is a courageous act that integrates the grace, kindness, and compassion of Christ.
Have something to say about this article? Leave your comment via Facebook below!
advertise with us
Example: "Gen 1:1" "John 3" "Moses" "trust"
Advanced Search
Listen to Your Favorite Pastors