Is it Wrong for a Christian to Have a Drink of Alcohol?
Joel Engle
Monday, October 03, 2011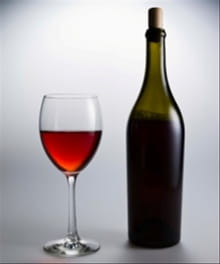 Is it a sin for a Christian to have a drink of alcohol?
It is an important question for our time. Millions and millions of Americans have been brutalized and devastated by the abuse of alcohol. I have had to deal as a minister with the shattered lives that occurred through the addiction and abuse of alcohol. This is not just an American issue but I live here so I will talk about what I know.
I am going to make some preliminary remarks and then do my best to back them up with the Scriptures and reason.
1. Jesus did make wine.
His first miracle was turning water into wine. I have heard many pastors that I respect go to great lengths to demonstrate that the wine that Jesus made was basically non-alcoholic. They talk about how the distilling of alcohol didn't really happen until centuries later.
Problem: People got drunk in the Bible. There was such a thing as "strong drink" beginning in ancient times. Therefore, the argument that the wine that Jesus made was almost non-alcoholic seems farfetched to me and to most Bible scholars.
I don't think Jesus made wine to have a party or to even enjoy it. I think He did it to demonstrate his divinity. Nonetheless, I am sure the people enjoyed it.
2. There has been a HUGE paradigm shift in American Evangelicalism concerning drinking alcohol.
It is hard to believe that most pastors now advocate drinking in moderation compared to how I grew up. Abstinence was just about THE litmus test for sanctification! The party line was almost "We are godly because we don't drink!" That idea, although extreme, was a reality.
I think the reasoning behind it is simple: if you don't drink you won't ever have to worry about abusing alcohol. That is a decent argument. However, there has been a grace revolution in our thinking over the last 20 years. I think this paradigm is for the better but it opens up the can of debate that can lead to disunity. Sometimes debate is worth the possibility of disunity. Sometimes.
1 Cor 10:23 "Everything is permissible"—but not everything is beneficial. "Everything is permissible"—but not everything is constructive. 24 Nobody should seek his own good, but the good of others."
I love what John Piper said in a video I watched a while back. He intimated that although there is grace and "tee-totaling" is a choice not a law, as pastors we must not be cavalier in the advocacy of drinking alcohol.
I think there are way too many Christians that just blurt out a quick "yes" or "no" without really thinking through the complexities of this question. I used to be one of them.
I do NOT want to present the advocacy of drinking alcohol in a cavalier way. We live in a culture of addiction and abuse. Drunk driving, teenage alcoholism, child abuse stemming from drunk parents are HUGE issues. Moderate drinking CAN lead to alcoholism. It is a possibility so we must be extremely careful.
3. It is a sin to cause another person to stumble into addiction.
Romans 14:20 "Do not destroy the work of God for the sake of food. All food is clean, but it is wrong for a man to eat anything that causes someone else to stumble."
If a mature Christian's freedom causes a person to fall headlong into sin then it is wrong. This is not a warning for people who walk in grace to be stifled because they are worried about legalistic Christians criticizing them. This is a warning to make sure that we never destroy the work of Christ in a believer's life by abusing our freedom.
The $10,000,000,000 question: Is it a sin to drink alcohol?
Recently on Pastors / Leadership
Have something to say about this article? Leave your comment via Facebook below!
advertise with us
Example: "Gen 1:1" "John 3" "Moses" "trust"
Advanced Search
Listen to Your Favorite Pastors