The Pastor's Wife's Survival Guide: Top 12 Ministry Bloopers
Dr. Julie Barrier, Preach It Teach It
Tuesday, October 11, 2011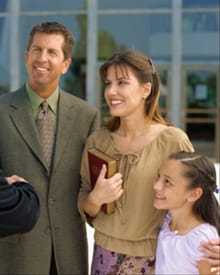 8. When you or your husband screws up, (and you will, often - remember, you are not Jesus) admit it. Own it. Don't explain it away. The best advice we ever heard in this regard is from a dear friend and associate pastor in our church. He said, "Roger, it's just about this time that a pastor will be tempted to do something really stupid." Don't run away, resign, or defend yourself from the pulpit. Learn from your mistakes. Listen to honest criticism. Be humble. Don't run away from trouble.
9. Don't be naïve. Expect the unexpected. Satan is relentless and creative. One valuable principle we've learned is that we must ALWAYS be prepared for hassle, interference and obstacles before God is getting ready to do something amazing. The worse the ammo, the greater the blessing that will follow. So don't give up. Be wise as a serpent and innocent as a dove, and pray your guts out.
10. Don't try do ministry alone. You really need to depend on Jesus. But you really need other people too. Every pastor and wife needs a support system. We have counseled thousands of pastors and wives, and they are some of the loneliest people we know because they are self-reliant and have never learned to receive. You can't give what you haven't received. You'll be tapped out pretty quickly. Find a godly, mature, safe friend or family member that you can be honest with and that will comfort, affirm and support you. God created all of us to be relational.
11.Don't miss the opportunity to have some family fun. Learn to laugh. Don't let your pastor-family become exhausted, dull, bitter or cynical. Set boundaries and plan to celebrate and recuperate. Life is too short, and your kids will love you for it.
12. And finally, don't forget that God is God and you are not. Every time I fear, falter or freak out about what's going on in my family and my flock, I remember that both belong to God. I am just His servant, and He is truly trustworthy.
For over twenty-five years, Dr. Julie Barrier has been in demand as a national and international conference speaker, addressing topics such as marriage and ministry, developing healthy relationships, biblical study, and women's issues. She is the founder and director of the Preach It, Teach It website, www.preachitteachit.org, providing sermons, devotionals, blogs, and videos by internationally renowned teachers and authors such as Francis Chan, Josh McDowell, Max Lucado, Beth Moore, Joyce Meyer, David Ferguson, Jim Cymbala, Larry Osborne, Mark Batterson, Stanley Toussaint and many more. International resources are also offered in ten languages. Since its inception in June 2008, Preach It, Teach It has received more than five hundred thousand hits from 203 countries. For many years, Julie also taught Biblical Foundations of Worship, Conducting, and Arranging as an adjunct Professor at the Dixon School of Church Music at Golden Gate Baptist Theological Seminary. She has served as a minister of worship, orchestra conductor, and arranger at Casas Church in Tucson, Arizona. Dr. Barrier has also performed as a concert artist and orchestra conductor. Dr. Barrier is the author or composer of over fifty published works: books, choral pieces, orchestral works, musical theater scripts, and journal articles. Her latest book is Bored in Big Church: Recollections of a Church Brat and Tattletale (Xulon Press, 2011). She and her husband, Roger, have two beautiful daughters and two sons-in-law. If you wish to book a conference with the Barriers, go to www.churchthrive.com.
This article first appeared on Dr. Barrier's blog at Preach It, Teach It. Used with permission.
Publication date: October 11, 2011
Recently on Pastors / Leadership
Have something to say about this article? Leave your comment via Facebook below!
advertise with us
Example: "Gen 1:1" "John 3" "Moses" "trust"
Advanced Search
Listen to Your Favorite Pastors