10 Questions With: Dave Lubben
Melissa Riddle, Online Editor, Songs4Worship.com
Friday, September 05, 2003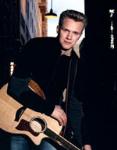 Songs4Worship.com: What has been the greatest challenge you've faced since you began pursuing music as a calling and a career?
Dave Lubben: To not pursue it first!  Jesus told us to seek first His kingdom. I confess that I am not naturally bent in that direction. Naturally I seek first my kingdom and my agenda. The Word says that we are all this way... We each turned to our own way (Is 53:6). So the greatest challenge I face is to deny myself daily and to seek Jesus first in my life. Praise God! He has given us His Holy Spirit to overcome our resistance to His kingdom coming in our lives! There is only one kingdom that will endure victorious throughout all eternity, and that's the Kingdom that I want to seek first!
Listen to the new worship album, A Place Called Surrender, by Dave Lubben.
S4W.com: What has been the most profound lesson you've learned about worship over the past few years?
Lubben: Humility. The more I learn about worship and the more I get to know God, the more I realize how little I know! I love what [the theologian] Spurgeon said. He described watching a little bird fly over the ocean as it swooped down to fill it's beak with water. The water in its beak is how much I know of God and the water left in the ocean is the untapped truth of who God is that I have yet to see and know. That is a humbling truth! I know that God opposes the proud but gives grace to the humble. When I look at Him, I see so clearly how great He is, and it humbles me as I see how small I am!
S4W.com: What is the most profound lesson you've learned about life over the past few years?
Lubben: It's not about me!
S4W.com: What is the most common misunderstanding about worship you see in the current worship climate, and how have you tried to reshape it?
Lubben: That worship is not a warm up for the message! May our messages be offerings of worship. Worship is not just songs! May our attitudes, decisions and whole lives be offerings of worship! Worship is not for us! May we leave our worship gatherings satisfied that God has been worshiped!!! Worship is not a fad! Praise God that we will worship Him forever and ever AMEN! Worship is a life ascribing to God the glory due His name! I've fallen short in every one of these misunderstanding, but I think the best way that any of us can reshape these is to live the truth.

S4W.com: What does 'worship lifestyle' mean to you?
Lubben: Obedience that permeates my everyday life. I John 5:3 says "This is love for God: to obey His commands!" "Those who live should no longer live for themselves but for Him who died for them and was raised again" (2 Corinthians 5:15). Jesus You are worthy!!!
S4W.com: This is kind of the desert island question. What are the five ministry essentials you could not do without?
Lubben:
1. God The Father.
2. God The Son.
3. God The Holy Spirit.
For the other two, revert to 1-3.

S4W.com: How do you explain the powerful connection between music and worship expression?
Lubben:  It's a beautiful mystery to me. For some reason the Creator designed sonic waves to blend together to capture our attention and to move our hearts. For some reason He made a natural expression of our hearts to be song! My God is in heaven, and He does whatever He pleases. I'm just glad that He was pleased to put a new song in my mouth! (Ps 40:3).
Have something to say about this article? Leave your comment via Facebook below!
advertise with us
Example: "Gen 1:1" "John 3" "Moses" "trust"
Advanced Search
Listen to Your Favorite Pastors