10 Questions With Dennis Jernigan
Debra Akins, Contributing Writer, Songs4Worship.com
Wednesday, December 18, 2002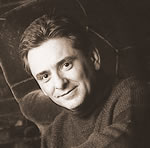 S4W.com: How do you explain the powerful connection between music and worship expression?
Jernigan: Music is so powerful as a means of worship because it incorporates our entire being. I sing to God in the midst of trials, and it gets my mind and thoughts off of me and my circumstances. When I worship through the gift of music, it takes every emotion, thought, and even my physical body to a place of peace found nowhere else.
S4W.com: Describe one of the most compelling, most powerful worship experiences you've had and tell how that affected you as a worshiper and as a leader since that time.
Jernigan: One of those times came several years ago during a New Year's Eve Night of Praise in Edmond, Oklahoma. I sensed that the Holy Spirit was leading me, in the midst of corporate worship, to ask if there were any who had come to the gathering as a last resort. I asked if there were any who were planning on taking their own lives if God did not meet with them on that very night. I then asked them to stand and allow me to sing God's heart over them, and over 50 people stood. Talk about God's power and tears flowing down together! We celebrated life that night, and I will never forget that moment.
S4W.com: What compels you to write new songs for worship?
Jernigan: What compels me to write or receive new songs for worship is relationship with people-meeting the needs of those I am in relationship with. I am not a songwriter, but a receiver. I have no established time to sit down and write. My focus is on my relationship with the Father and with His children. When I sense a need, I take it to Him in song as it simply flows out of my heart as a result of relationships I am in. In this way, the songs take on a very personal and relevant nature.
S4W.com: What person has influenced your ministry/your music the most and how?
Jernigan: In 1977, I was introduced to the music of Annie Herring (Second Chapter of Acts) and Keith Green. Someone gave me a Second Chapter album, and I was floored by the intimacy I felt with God as I listened. Keith Green came to my university when I was a freshman. Again, I was impacted by the passion and intimacy I felt when he sang. Having heard their stories of God's redeeming love in their lives as He redeemed them from all they had to go through, I was encouraged and given hope that just maybe, God could do the same for me.

Debra Akins is a freelance writer and media consultant who lives in Franklin, TN.

Have something to say about this article? Leave your comment via Facebook below!
advertise with us
Example: "Gen 1:1" "John 3" "Moses" "trust"
Advanced Search
Listen to Your Favorite Pastors