10 Questions With Eoghan Heaslip
Melissa Riddle, Online Editor, Songs4Worship.com
Tuesday, October 29, 2002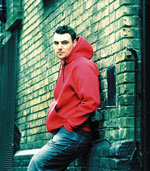 S4W.com: How did you get started in worship ministry?
Eoghan Heaslip: When I became a Christian eight years ago, there was a young American guy, Shea Knorr, living here in Dublin and working for the senior pastor of our church, Willi Stewart. Shea discipled and mentored me, and taught me about worship. He was then and still is a passionate worshiper, and an inspiration to me. At that time he was very into the growing UK worship scene, attending conferences and buying all the relevant CDs and songbooks, so that our church was always growing in our worship experience. Matt Redman and Cutting Edge (now known as Delirious) were just starting to write and influence.
Shea helped me get a guitar on lend from a friend and started teaching me chords and songs. My first worship leading opportunity was in Shea's front room at a cell group meeting he had started for students at our church. I look back on that time with real appreciation. It was the beginning of the journey that led me to where I am now.
A couple of months later I heard about a worship school being run in a church in Kelowna BC in Canada. Willi and Shea helped me to get the finances together, and off I went. My first week at the school in Kelowna, I met a beautiful Canadian girl called Becky (now my wife of 5 years), a very important part of the story.
While in Kelowna I also met [noted Vineyard worship leader] David Ruis. We really connected at the school, and he invited me to come to Winnipeg where he was living to intern with him and the staff there. I spent a little over a year in Winnipeg and did some traveling with David, but mostly enjoyed the life of the church, leading worship, getting involved in the student cell groups and helping at the church offices. Becky and I moved from Winnipeg to Victoria BC where we were married later that year. We then moved back to Dublin to come on staff in my old church, CORE (City Outreach Through Renewal and Evangelism), joining Willi and the team. We've been on full time staff here for five years now.
S4W.com: What has been the greatest challenge you've faced in ministry?
Heaslip: My greatest challenge in ministry has been myself! Before you go and think, 'Oh here we go, another over-the-top worship leader!' Let me explain my motives.
If I'm honest, ministry has not at all been I expected it would be. When you're 21, you really don't understand a lot about the realities of ministry. Endeavoring to grow and stay at the center of what God has for us often involves dealing with all He is bringing to the surface in our lives. Many of the things that challenge us will change over time; the things I struggle with now are not always the same struggles from two or three years ago. But in the midst of leading and discipling others, we find our own insecurities, fears and doubts still exist. So as I have pursued all that the Lord has led me into for our worship teams and leaders, it has inevitably brought me on a personal journey of forming and discipline which, if I'm honest, has been my greatest challenge.
S4W.com: What has been the most profound lesson you've learned about worship over the past few years?
Heaslip: Worship is about God and not about us. What is very simple has been made very complicated. Any attempt we make to worship God pleases him and moves him. It is not conditional to the type of musicians you have, or how good your worship leaders are. Or how many albums they've recorded or how many songs they've written. I can remember reading a passage in 1st Samuel, where Samuel has been instructed by the Lord to anoint a new king. Before anointing David that day, Samuel was taught a big lesson by the Lord. "The Lord does not look at the things man looks at. Man looks at the outward appearance, but the Lord looks at the heart."
When we come before God either as a church body or as individuals in our homes to worship and be in His presence, the Lord looks at the heart. Songs, which are nothing more than tools, will pass with the changing seasons, but the true motives and ambitions of the heart cannot be hidden. Worship is a heart to heart expression to and union with God, a truthful and honest offering. King David knew this and penned these words in a song: "You don't delight in sacrifices, or I would bring them, but a broken and contrite heart, you will never deny." David understood the place of the heart in worship, whatever its state.
Have something to say about this article? Leave your comment via Facebook below!
advertise with us
Example: "Gen 1:1" "John 3" "Moses" "trust"
Advanced Search
Listen to Your Favorite Pastors