10 Questions With Eoghan Heaslip
Melissa Riddle, Online Editor, Songs4Worship.com
Tuesday, October 29, 2002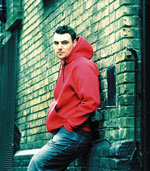 S4W.com: What is the most profound lesson you've learned about life over the past few years?
Heaslip: Personally, the biggest lesson I've had to learn in life is "not to resent God's timing." I am, at heart, rather impatient, and I always think things should be moving faster in my life than they are. Inevitably my impatience finds me rushing ahead, doing things in my own way, which has brought me nothing but sorrow. God may not ever be early but he is never, never late. He knows all things and holds the keys to life and death for every relationship and situation firmly in his hands. By life and death, I don't mean breathing or not breathing. I refer to the life or death of our spirits. He knows what we need and is the most awesome provider and protector. I have really had to learn to trust God in new ways these past few years, in ways I never thought were possible.
S4W.com: What is the most common misunderstanding about worship you see in your own congregation and how have you tried to reshape it?
Heaslip: The most common misunderstanding about worship in my own congregation has been related to something I call the "mediator theory." There is a process any parent will go through to get his/her child to begin feeding itself. Sometimes filled with a real eagerness to learn, young children insist on going it alone without any help, and they make a shocking mess everywhere. Other times, even though these babies are perfectly able to feed themselves, they resort to a baby-type behavior so they can be spoon fed again. For the first stages of this period of growth, a parent needs to be gracious and patient, but committed to the end goal, that is to see the child sitting with you, feeding himself.
Sometimes this is a relevant comparison to the type of work a worship leader, worship pastor or worship team will have to do. The goal is to see everyone worshiping in their own way, feeding themselves, not needing to be spoon-fed worship, while resorting to some type of behavior. This is where the "mediator theory" comes into play. Some worship leaders stay in that spoon-feeding zone and become a mediator for their congregation, between them and God, never encouraging the people to worship on their own. This gives way for certain behaviors to come out, and makes for an interesting worship time when you're not there.
I first encountered this at our church when some of the worship leaders I have been mentoring over the past two to three years started to lead worship in my place at Sunday services. The guys I had trained found the congregation reacting very differently to them and their leadership than how they responded to my leading. Trying to figure out what was happening, I realized that I had been in many ways spoon-feeding them, instead of teaching them to feed themselves regardless of who leads the worship.
S4W.com: What does 'worship lifestyle' mean to you?
Heaslip: For me worship has very little to do with what happens on a regular Sunday service at church. Worship has to do with the kind of person you are in work, school, and college or at home on Monday morning and on through the week. What makes you the kind of person you are is linked to the amount of freedom we give to the Lord to live and work in our lives for his praise and glory. Worship involves the motives that lead us to do what remains unseen to almost everyone else we know. The pursuit of a deeper relationship with the Lord firstly! Sharing your lunch sandwich with a homeless person on a street corner, offering to cover for someone at work, so they can go home and fulfill family commitments. Turning the other cheek, when someone at school embarrasses us in front of friends. Forgiving someone when they ask you to forgive them. But above all, worship lifestyle involves us letting all that God is doing with us to be reflected in all that we do and say, not just the songs we sing at church on Sunday morning.
Have something to say about this article? Leave your comment via Facebook below!
advertise with us
Example: "Gen 1:1" "John 3" "Moses" "trust"
Advanced Search
Listen to Your Favorite Pastors