10 Questions With Eoghan Heaslip
Melissa Riddle, Online Editor, Songs4Worship.com
Tuesday, October 29, 2002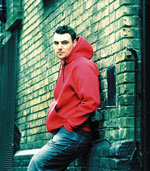 S4W.com: How do you explain the powerful connection between music and worship expression?
Heaslip: The connection between music and worship expression is, simply, God. The most awesome creator loves music. He created music, and I believe He gave music as a gift to us to be used firstly and foremost for His worship and His worship alone. Music is for His glory. Obviously, that's not where the story ends, God in His mercy and grace pours out His gifts freely on all flesh, not just for believers. And so people worship the created rather than the creator, the musician and the gift of an individual rather than the Giver of the gift. But music is His, and I believe that His presence can be both found and released, even to an unbeliever, through it. It's the most awesome of gifts and tools for the church to worship.
S4W.com: What role does prayer play in the corporate worship experience? Do you feel prayer is given its due in worship? How so?
Heaslip: I see worship and intercession as inseparable. They will flow in and out of each other, often resulting in a spontaneous or prophetic element being brought out in worship. We run weekly prayer meetings through the city, where we continue to push out the boundaries in an even greater way. Once a month, we hold an all-night prayer meeting where, as a church, we experiment corporately with some of the things we have uncovered in those more intimate meetings through the week. Worship plays a key role in the midst of that.
S4W.com: What compels you to write new songs for worship?
Heaslip: For the most part, what compels me to keep trying to write new songs is that I just love to see people worshiping, I don't think there's anything more moving than a room full of people lost in worship. Writing songs is something that doesn't come easily to me at all. I usually have to work very hard, just to make sense of the erratic creativity that comes my way. Though it is something I continue to ask God for more of.
I have only written two kinds of songs, the first of which is the very personal kind that most probably will never be a song of any use for congregational worship. The second kind of song is what I have written in response to something the Lord is stirring in me specifically for where the church is at, something the church needs to sing. Whether I'm searching for new liturgy to use for worship as we center on the cross, songs of thankfulness, songs that focus on the greatness of God, I consider different aspects of faith and God's nature and character. For the most part this makes up the larger part of the songs I try to write
S4W.com: What makes a song or any act for that matter worshipful?
Heaslip: A truthful offering of the heart is what I believe makes a song or act, worshipful.
Read a review of Mercy
or
pick up a copy of the album
from Songs4Worship.com!
Have something to say about this article? Leave your comment via Facebook below!
advertise with us
Example: "Gen 1:1" "John 3" "Moses" "trust"
Advanced Search
Listen to Your Favorite Pastors