10 Questions with: Michael Gungor
J. Gary Walker, Contributing Writer
Wednesday, November 02, 2005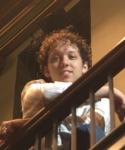 Worship leader Michael Gungor gained popularity with his debut album, Bigger than My Imagination,and for co-writing the Dove Award nominated worship song "Friend of God," and he also serves as the featured worship leader for Acquire the Fire's national conference events. Michael's latest CD, Battle Cry: Worship From the Frontlines, is releasing this month from Vertical Music. We recently talked with Michael about his influences and the challenges and rewards of a life in the music ministry.
Songs4Worship.com: What has been the greatest challenge you've faced since you began pursuing music as a calling and a career?
Michael Gungor: The biggest challenge for me has probably been finding a balance between being faithful to my local church and my outside ministry. I have never wanted to stop leading in a local church because I think a huge part of my calling is to write songs for the church, and leading a local body week to week is very different than leading outside all of the time. So I feel this need to be in church, but I also feel this incredible prodding for the church at large and to be out with different parts of the Body. And balancing my calendar is not been the only issue to deal with in this dance.
You also have this issue: yesterday, I was with my tight band playing in front of thousands of people really excited that we were there, and today I have the volunteer band, and the drummer is not staying with the click and the electric player is doing who knows what, and there's that old guy grimacing at me in the fifth row. You know? Local church. But even though it can be so much less glamorous just leading week to week in your local church, there is something so real and so good about it. In a way, it's kind of like marriage versus a first date. It can be painful, but so beautiful.
Listen to samples or buy Battle Cry: Worship From The Frontlines from Songs4Worship.com!
S4W.com: What has been the most profound lesson you've learned about worship over the past few years?
Gungor: Probably one of the things that most changed about my worship leading in the last few years has been a bit of a shift of focus. Since leading worship is my job, I've really wrestled with the questions of "why I do what I do?" and "what difference does it really make?" I think we all want more than just a nice emotional and tingly worship service that makes us feel good. Our worship is not for us, after all, but for the glory of God.
But if our worship moments don't reshape us and help us love the world as well as God more, and if they don't lead us to be more like Jesus and care about the things He cares about, then are we truly glorifying God? Wouldn't that just be lip service? The Bible says that God is seeking "worshipers" who worship in Spirit and truth. He's not just seeking worship itself. To me, that implies that our worship should lead us to be the kind of people that God is seeking: people like Jesus. So finding ways of letting the Spirit of God shape us and form us in that corporate worship moment as we are in His presence has been my mission lately.
S4W.com: What is the most profound lesson you've learned about life over the past few years?
Gungor: Life has just gotten bigger to me over the last few years. The more that I've read and learned and grown, the more I see how small and boxed in my world can get. And then I get a broader world view, and then I figure out it's just a little bigger box. I think that I have very little, if anything, fully figured out. Truth is not as simple as it used to be for me.
Scripture is not as simple, eternity is not as simple, and life is not as simple. If I had to sum it up, I'd say that I've learned to embrace mystery. I've learned to live in wonder and in trust. At least better than I used to, I probably still trust my current box though.
Have something to say about this article? Leave your comment via Facebook below!
advertise with us
Example: "Gen 1:1" "John 3" "Moses" "trust"
Advanced Search
Listen to Your Favorite Pastors