10 Questions With Stuart Townend
Debra Akins, Contributing Writer
Tuesday, May 27, 2003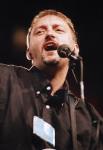 S4W.com: What has been the greatest challenge you've faced since you began pursuing music as a calling and a career?
Townend: Probably the biggest challenge I find is to keep pressing on with God. When you see some measure of success in leading worship, it's easy to keep on using the same songs, doing the same things because they've worked before. But then you begin to rely on yourself and your experience, instead of putting your trust in God and allowing him to take you into new areas. These days I find things become stale very quickly unless I seek God for the 'fresh manna.'

S4W.com: What has been the most profound lesson you've learned about worship over the past few years?
Townend: A few years ago God spoke to me very clearly about priorities-that I should please God and serve the people, not the other way round. At the time I was too driven by trying to please people. Sure, I wanted to serve God by my worship leading, but the most important thing was how much positive feedback I got from individuals in the congregation. I was working on a human level rather than a spiritual one, and I wasn't ready to step out in obedience to God if it meant making people feel uncomfortable. God really began to sort out my priorities, and now when I'm preparing to lead worship, I'm looking to serve people by leading them in a way that they will connect with God. But my primary question is, "Lord, where do you want to take us?"
 
Stuart Townend's "How Deep the Father's Love" appears on Let Your Glory Fall by Phillips, Craig & Dean. Listen to samples from that album.
S4W.com: What is the most profound lesson you've learned about life over the past few years?
Townend: That the most important responsibility I've got is to my family, above career or ministry. We're probably all aware of the stereotype of the businessman who spends so much time away from home providing for his family that he misses out on his children growing up. Well, it can happen just as easily to a person in Christian ministry. In fact, it's probably more likely because the rationale for being away is linked to a worthy cause. Someone said to me recently, "If you don't have time for your child in the first ten years of their life, they won't have time for you in the next ten years." That stopped me in my tracks and I pulled back my traveling time significantly, and our family is better for it.
 
 
S4W.com: What is the most common misunderstanding about worship you see in the current worship climate, and how have you tried to reshape it?
Townend: I am concerned about our obsession with the "worship experience." Don't get me wrong. I am an advocate of the heartfelt, emotional expression of worship to God. I also absolutely believe in the activity of the Holy Spirit in our worship, revealing Christ afresh to us, stirring our hearts (making them "strangely warmed," as Wesley once put it) and inspiring spiritual gifts among us. The danger now is that we are so focused on the experience our worship can become self-seeking and self-serving. When all of our songs are about how we feel and what we need, we're missing the point. There is a wonderful, omnipotent God who deserves our highest praise, and how we feel about it is in many ways irrelevant!  I want to encourage the expression of joy, passion and adoration, but I want those things to be the by-product of focusing on God - I don't want them to become the subject matter. I'm trying to write songs that refer to us as little as possible, and to Him as much as possible!
Have something to say about this article? Leave your comment via Facebook below!
advertise with us
Example: "Gen 1:1" "John 3" "Moses" "trust"
Advanced Search
Listen to Your Favorite Pastors