7 Things We Regularly Get Wrong about Worship
Joe McKeever
Tuesday, May 24, 2011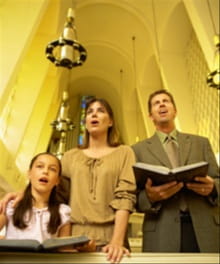 The typical congregation in the average church today really does think the service is all about them--getting people saved, learning the Word, receiving inspiration to last another week, having their sins forgiven, taking an offering to provision the Lord's work throughout the world.
Anything wrong with those things? Absolutely not. But if we go to church to do those things, we can do them. But we will not have worshiped.
Warren Wiersbe says, "If you worship because it pays, it will not pay."
4. Evangelism & Discipleship, Giving & Praying, Grow Out of Worship; Not the Other Way Around
The disciples were worshiping on the Day of Pentecost when the Holy Spirit filled them and drove them into the streets to bear a witness to the living Christ (Acts 2).
Isaiah was in the Temple worshiping when God appeared to him, forgave his sins, and called him as a prophet to the people (Isaiah 6).
It was in the act of worship that the two distraught disciples had their eyes opened to recognize Jesus at their table (Luke 24).
5. We are to Give Him Worship and Glory in the Ways Scripture Commands
"Give to the Lord the glory due His name and bring an offering." So commands I Chronicles 16:29 and Psalm 96:8.
"The sacrifices of God are a broken spirit. A broken and contrite heart--these, O God, you will not despise." (Psalm 51:17)
Singing, praise, rejoicing. Praying, offering, humbling, loving. All these are commanded in worship at various places in Scripture.
The Lord Jesus told the Samaritan woman at Jacob's well, "Those who worship God must worship in spirit and in truth" (John 4:24). That is, with their inner being, the totality of themselves, their spirit, not just their lips or their bodies going through the motions. And in truth--the revealed truth of how God has prescribed worship to take place. He is not pleased with "just anything" that we claim as worship.
We must balance our worship between spirit (the subjective part: body, soul, emotions) and truth (the objective aspect: all that God has revealed in His word).
6. We Are the Ones Who Decide Whether We Worship upon Entering the House of the Lord
Don't blame the preacher if you don't worship. He can't do it for you.
No one else can eat my food for me, love my cherished ones in my place, or do my worshiping for me.
No pastor can decide or dictate whether we will worship by the quality of his leadership or the power of his sermon. Whether I worship in today's service has absolutely nothing to do with how well he does his job.
I am in charge of this decision. I decide whether I will worship.
When Mary sat before the Lord Jesus, clearly worshiping, He informed a disgruntled Martha that her sister had "chosen the good part," something that "will not be taken away from her" (Luke 10:42). That something special was time spent in worship. Such moments or hours are eternal.
Lest someone point out that Martha could have worshiped in her kitchen by her service for Christ, we do not argue, but simply point out that she was not doing so that day.
7. Remember: Worship is a Verb
And it's an active verb at that.
Worship is something we do, not something done to us.
In the worst of circumstances, I can still worship my God. In the Philippians prison, while their backs were still oozing blood from the beating they'd received, Paul and Silas worshiped (Acts 16:25).
Even if a church has no pastor and has to make do with a stuttering layman or some inept fill-in, I can still bow before the Lord, offer Him my praise, and give Him my all. I can humble before Him and I can bring my offering.
Have something to say about this article? Leave your comment via Facebook below!
advertise with us
Example: "Gen 1:1" "John 3" "Moses" "trust"
Advanced Search
Listen to Your Favorite Pastors