Becoming God's Voice for Breakthrough
Debbie Przybylski, Intercessors Arise
Tuesday, March 13, 2012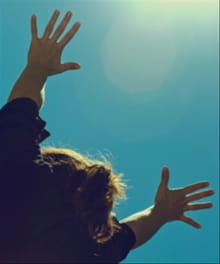 One of the things that the voice of the Lord does in these verses is to break (shabar). This means "to burst, to break into pieces (like a wild bear); to destroy, to perish (such as kingdoms, a city, or a people); to cause to break forth, to open (the womb)". The broken places need repairing. Nations are in turmoil, evil is rampant, people are discouraged and frightened. We can stand in the gap and bring healing to the earth as we are God's voice of hope and life. We can help destroy the works of evil and rebuild, repair, and restore through our prayers. Kingdom people know how to pray in His Kingdom. We read in Isaiah 58:12:
"Your people will rebuild the ancient ruins and will raise up the age-old foundations; you will be called Repairer of Broken Walls, Restorer of Streets with Dwellings."
Positive Confession
When we pray with positive confession, we pray with expectancy and faith. It's easy to be negative when you are going through a difficult time in your life. I know that I am tempted to complain during those times. It is so easy to talk about the problems. During testing times like this, we must especially watch our speech. As we go against our feelings and positively confess God's truth and praise His name, our hearts change. Our mindset changes and confusion, discouragement, and anxiety flee.
But we first must trust God and His character. We must trust His Word and not our feelings. He will carry us through. Faith is expecting what I pray will happen. We do not just believe God can do something, but that he will do something. Positive confession is bold and confident in it's praying. Once we know Gods heart, we boldly pray it and then we walk in faith that it will be so, even when the answer is not there yet and even when difficulties are all around us.
Positive confession is confidence in God and acting on that confidence. We must pray with confidence that God will answer our prayers according to His wisdom and goodness. We must trust that He knows what is best for us. Proverbs 3:5 says, "Trust in the Lord with all your heart and lean not on your own understanding." It's so easy for us to lean on our own understanding instead of boldly leaning on God and His Word. Faith acts on God's Word, His truth. Look at the example of Abraham in Heb. 11:8, "By faith Abraham, when called to go to a place he would later receive as his inheritance, obeyed and went, even though he did not know where he was going." Abraham went by faith. His life was a positive confession of God's promise.
In declarative prayer that positively confesses God's truth, we expect God to answer us. We pray with assurance when we know we are asking in His will. When we have the assurance that a promise is from God's Word for us, we can pray it confidently and claim it authoritatively. We don't just believe but we say exactly what we believe.
We hold firmly to the faith we profess -- "Therefore, since we have a great high priest who has gone through the heavens, Jesus the Son of God, let us hold firmly to the faith we profess" (Hebrews 4:14).
We confess with confidence -- "So we say with confidence, 'The Lord is my helper; I will not be afraid. What can man do to me?'" (Hebrews 13:6)
We confess with our mouth -- "For it is with your heart that you believe and are justified, and it is with your mouth that you confess and are saved" (Romans 10:10).
For our faith to be effective, we must positively confess it. It will never be mine, until I say so. We may have to pray many times. Elijah had to pray 7 times for rain. Jesus had to pray 3 times in the Garden of Gethsemane. We are encouraged to keep on asking and keep on seeking in Matthew 7:7. We have to keep on until we have the assurance from God and then we begin giving thanks.
What are you facing in your life today where you need to practice positive confession of God's truth? Are you standing upon His promises and practicing declarative prayer? Are you leaning upon your own understanding or are you boldly leaning upon God's Word? Are you God's mouthpiece in a world that desperately needs to hear His voice?
Let's pray with an attitude of expectant faith. Let's pray that we will be God's mouthpiece on earth today in our prayers and actions.
"When we are really praying in faith, our attitude will be one of expectancy rather than wish or desire. Faith means that we've moved beyond believing that God can do something to believing that He will do something when we ask." --Jonathon Graf
Together in the Harvest,
Debbie Przybylski
Intercessors Arise International
deb@intercessorsarise.org
http:www.intercessorsarise.org
Have something to say about this article? Leave your comment via Facebook below!
advertise with us
Example: "Gen 1:1" "John 3" "Moses" "trust"
Advanced Search
Listen to Your Favorite Pastors