Call to Worship
Roc Collins
Sunday, April 01, 2007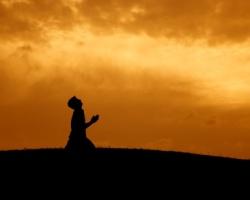 Second, He is the Owner of everything from the deepest valleys to the highest hills - all the land and all the sea. To say that He holds it in His hand speaks of the greatness of our God. (Psalms 95:4-5)
Third, He is the Creator of all that is. When my sons were younger they often asks where things come from. Where did that dog come from? Where did this car come from? Where did this fish come from? My response is always the same. God made it. Some may say that an explanation of an automobile, plant, or the reproduction of animals should be given. However, more valuable to this father is that my young sons know God, the Creator. The other explanations of specifics may come later, but the knowledge that all that we have and all that is around us is from a "Great God and King" will have an eternal impact on my sons. (Psalms 95:5)
Our God is Worthy of Worship (Psalms 95:6)
The overflow of joy and thanksgiving in shouts of song and praise along with the realization of the awesomeness of God must culminate in Worship. To come into His presence and not worship Him is a contradiction of ideas. To the Hebrews the idea of worship was synonymous with bowing down before the object of adoration. Therefore, we are instructed to kneel down before the Lord. Why would we kneel before Him? Because we are overcome with joy, gratitude, and awe and He is greater than we are. Kneeling before Him shows our submissive attitude and spirit before this "Great God" whom we serve.
We don't kneel much in the twenty-first century. The spirit of the self-made person is alive and well. Today's philosophy is to get as much power as possible and submit to no authority. The lack of respect for authority is prevalent. Children don't respect their parents, students don't respect their teachers, and employees don't respect their employers. Respect for the things of our God is on the decline. Our God is worthy to be worshiped because He is so much greater than we are.
Our God is Personal (Psalms 95:7)
Finally, He is worthy to be worshipped because He is a personal God. Though He is the God of many, He is able to be the God of one, mine. That means He knows us, each one, and we know Him. Such a relationship has been His intent and plan from the beginning. His desire for man is evident through the entire Old Testament, revealed in the Gospels, refined in the Epistles, and rejoiced over in the Revelation. God desires to be our God and we are to be His people. This theme sewn into the fabric of Holy Scripture will come to pass according to Revelation 21:3.
And I heard a loud voice from the throne, saying, "Behold, the tabernacle of God is among men, and He will dwell among them, and they shall be His people, and God Himself will be among them (NAS)
The redeemed worship because they understand that they are already the people of His pasture and He is their God. True worshipers are also eagerly looking forward to that time when we are gathered to Him to dwell in His presence forever. Our Lord is to be worshiped for He alone is Worthy.
In much of our conversations regarding what happens on Sunday mornings in many church we may refer to the overall event as the "worship service." We really (either consciously or subconsciously) divide it into two parts. Some may even have someone called the "worship leader" who provides direction to all the events leading up to the message which is brought by someone called the "preacher." Psalms 95:7 gives us just such a transition. The process of coming together, giving expression to our joy and thanksgiving, seeing God's awesomeness and realizing His great love for us ultimately leads us to being receptive to "hear His voice."
Have something to say about this article? Leave your comment via Facebook below!
advertise with us
Example: "Gen 1:1" "John 3" "Moses" "trust"
Advanced Search
Listen to Your Favorite Pastors