Ministry Matters: Pass the Blender, Part I
John Chisum, Contributing Writer
Friday, April 16, 2004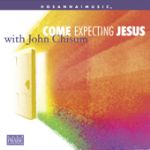 Blended worship n (current usage): a type of worship designed to offend everyone
Recently I led a rather cool version of Jude del Hierro's wonderful song More Love, More Power at my church. The youth had just returned from a powerful experience at camp and were ready to overwhelm the first few rows on Sunday morning with the kind of exuberance one would expect from youth with cherub-like faces still glowing from a mountaintop high. The band had rehearsed. The sound system had been tweaked. At the appropriate moment we launched into the tune with all the ferocity of a Jr. High garage band. No one sang. The kids looked like they were all on Darvoset, and the adults looked like they'd just discovered pickle juice in their morning coffee. I started to perspire. When I get nervous, my sweat glands get happy. So – here I am in front of several hundred people feeling like a fat turkey the day before Thanksgiving.
Listen to sound clips from Hosanna! Music's Come Expecting Jesus featuring John Chisum
Maybe you've been there. Maybe you understand the pressure I feel each week to find just the right combination of songs to woo every would-be worshiper into the highest heavens. Maybe you know what it's like to wake early each Sunday morning and wonder if "it" will happen today. Maybe you, like me, live under the expectation that each week, somehow, you need to entice, dazzle and mystify the congregation as you attempt the impossible— blended worship.
The theory of blended worship teaches that God is doing a new work in the Body of Christ by bringing together many divergent worship expressions into a way of 'doing church' that utilizes the best from every tradition. In this "convergence model," it is now possible for people in Baptist churches to lift their hands and not be labeled "charismatic." It is now possible for liturgical churches to embrace contemporary music and not lose their traditional roots. In this new-fangled convergence thing, there's now a chance that the dividing points Christians may become synapses, or points of connection, as we openly recognize and embrace the best of the indigenous expressions of worship from each tradition.
Great theory. But is it really happening? Does blending worship styles really work? Will our congregations swallow this theory 'hook, line, and sinker'? Will they follow us off the visual cliff and trust that God is in it, or will they clutch their personal preferences tightly to their breasts, shake their bony fingers in our faces and call us anathema? I believe the answer is yes. I believe the answer is no.
HOW I GOT HERE
To explain my seemingly ambivalent answer, allow me to share a bit of my experience in this area. In 1991, I was the worship leader at a medium-sized charismatic church in Nashville. With a pool of incredible worship musicians and singers, on any given Sunday morning, we would rock the flock! In 1992, an opportunity for me to work as a publisher and writer with Integrity Music presented itself, and my family and I relocated to Mobile, Alabama. While in Mobile, God divinely placed us in a traditional, historic, liturgical church to worship. Now, picture this: I was the worship leader at one of Nashville's hopping charismatic churches and then God plops us down in the middle of a liturgical church that sings songs from the 1960's and 70's like "I looked down the road and I saw my Lord a'coming…"! One precious octogenarian in our congregation actually told me, "A piano belongs in a bar-room, not in a sanctuary!"
By 1999 and by God's mysterious hand, the unimaginable happened. I became the worship pastor of this very church. One year later, our congregation would voted to leave the denomination, lose all of our property and suddenly become a mission church, moving equipment in and out of a generic meeting space each week. How odd this will of God!
Have something to say about this article? Leave your comment via Facebook below!
advertise with us
Example: "Gen 1:1" "John 3" "Moses" "trust"
Advanced Search
Listen to Your Favorite Pastors