Pick of the Week: Bigger Than My Imagination
David Schrader

Contributing Writer

2003

18 Nov

COMMENTS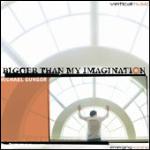 Artist: Michael Gungor
Album: Bigger Than My Imagination
Label: Vertical Music
Quote: "I love worshipping with my guitar! Some of my favorite worship moments are the wordless, heart to heart moments with my Creator. Sometimes I don't think we pay enough to the whole 'praise Him with...' thing; you don't just have to sing all the time. Do I sound like a musician?"
FYI: Michael may have one of the least obvious personal record collections in the worship community. He's a big fan of world, jazz, funk, R&B, and classical music, and those tastes bring fun twists to his work as evidenced by the swirling two-minute instrumental opening to "Here I Am To Worship" and breezy outdoor caf' vibe of "It's Your Love."
The Bottom Line: Gungor has found a winning mix of familiar modern worship and new school creativity. Subtle jazz and classical sensibilities aren't the norm in most church settings, but a broad range of listeners will be delighted by the lift they give to these energetic praise anthems and ballads.
Featuring: Big sing-alongs like the Steven Curtis Chapman-esque title track and "Friend of God," jazzed up original "Move Me" and keenly interpreted cover "Meet With Me." A one-man show instrumental version of "Doxology" encapsulates Gungor's charm.
—David Schrader
Special Offer: This enhanced CD includes chord charts and lyric text files for four songs—with charts and lyrics for all of the songs available FREE at www.Verticalmusic.com. For a limited time,
---
---