Pick of the Week: Don Moen's Hiding Place
Chris Davidson

Contributing Writer

2006

23 Oct

COMMENTS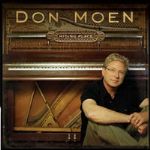 CD: Hiding Place
Artist: Don Moen
Label: Integrity Music
Quote: "I love live albums, the energy, the spontaneity, but for this project, I felt that applause would fill up a lot of space that I wanted to leave free for people to 'steal away' for a moment. The goal is to create an atmosphere that encourages people to enter into God's presence and applause isn't necessary for that to take place." —Don Moen
FYI: On his most recent U.S. tour, Don headlined iWORSHIP concerts that benefited Food for the Poor and included fellow artists Twila Paris, Chris Tomlin, Sara Groves and Robin Mark.
The Bottom Line: Produced once again by David Hamilton (Micheal W. Smith, Twila Paris), Hiding Place—Moen's first studio recording—is an intimate collection of new worship songs sure to resonate with passionate followers of Christ. Each song is a powerful reminder of God's power and faithfulness in our lives, especially when we need Him most.
Featuring: 12 songs, including: "Hiding Place," "He Never Sleeps," "Sacrifice of Praise," "All The Earth," "Fresh Fire," "With A Thankful Heart," "Lead Me Through The Night," "Hear Us From Heaven," "Break Through," "Revelation Song," "Psalm 23" and "Still/Be Still My Soul."
Check out Don Moen music videos at Godtube.com!