Playing Church? Or Worship?
Mary Southerland, Girlfriends in God
Tuesday, May 10, 2011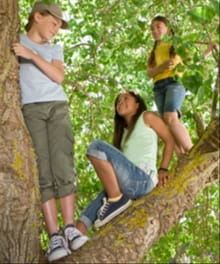 Jesus was the big news in town and the main topic of every conversation. He had healed the leper, given sight to the blind and raised the widow's son right out of the coffin. Everybody wanted Jesus at his or her party. Simon was an arrogant Pharisee who invited Jesus to his home for a feast. Jesus went, knowing that He would have an opportunity to minister to the Pharisees. But He also went, knowing that this woman would come seeking Him. God always responds to a seeking heart. Worship begins with a seeking heart. When we seek God, we must seek Him with our whole heart - a heart that is set on being in the presence of God. "Seek" literally means "to pursue, to chase or to hunt".
An ancient tale from India describes a young man who was seeking God. He went to a wise old sage for help. "How can I find God?" he asked the old man. The old man took him to a nearby river where they waded into the deep water. Soon the water was up just under their chins. Suddenly the old man grabbed the young man by the neck and pushed him under the water, holding him down until he was flailing the water in desperation. Finally, the old man released him. The young seeker was coughing and gasping for air. Reaching the bank, he was furious! "What did that have to do with my finding God?" The old man asked him quietly, "While you were under the water what did you want more than anything else?" The young man thought for a moment and then answered, "I wanted air. I wanted air more than anything else!" The old man replied, "When you want God as much as you wanted air, you will find him." To pursue God means to long for Him with every fiber of our being. God promises to meet us in worship when we come seeking Him.
1 Chronicles 28: 9 If you seek him, he will be found by you. (NKJV)
Jesus made Himself available to this woman, wanting to meet her need of forgiveness. He chose to go to this party knowing she would be there. Jesus waits for you. He longs to spend time with you. He created you out of love and a desire to be with you. When we come expecting to meet God, longing to be in His presence, then, we will begin to worship.
Father, I want to know and worship You. Give me the heart of this woman who abandoned it all to spend time at Your feet. Strengthen my commitment to spend time alone with You. I pray that my heart will long for you so much that I have to come and sit at Your feet. I worship You, Father. In Jesus' name. Amen
For Reflection
Ask yourself this question: What is keeping me from spending time alone with God?
Don't wait another minute. Make a commitment to seek God! Choose to:
Make an appointment with God.
Come - expecting Him to be there.
Understand that He will be waiting for you.
Refuse to let anything keep you from your time with God.
Mary Southerland is a pastor's wife, mother of two teenagers, co-founder of GiG (Girlfriends in God), author of Hope in the Midst of Depression, Sandpaper People, Escaping the Stress Trap and Experiencing God's Power in Your Ministry (Harvest House) and conference speaker. She is also the founder of Journey Ministry, a teaching ministry dedicated to equipping every woman for her unique journey. Visit Mary's new website at www.MarySoutherland.com. Click here to read the Girlfriends in God devotional on Crosswalk.com.
Have something to say about this article? Leave your comment via Facebook below!
advertise with us
Example: "Gen 1:1" "John 3" "Moses" "trust"
Advanced Search
Listen to Your Favorite Pastors