Song Story: There Is None Like You
Phil Christensen and Shari MacDonald, Contributing Writers
Monday, February 21, 2005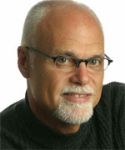 Some people would give anything for a recording contract with one of the world's largest and most influential music labels. Lenny LeBlanc gave up his recording contract so that he could truly have everything.
He had a lot to give up. Throughout the 1970s, Lenny had been a successful pop artist, his career hitting some especially impressive peaks toward the end of the decade.
To listen to selections from Lenny LeBlanc's most recent album, Above All, click here.
Then, in 1981, Lenny got a call from a close friend who lived in Florida.
"He was a big-time drug smuggler," says Lenny. "He called me late one night and said, 'Lenny, I got saved. I'm going to heaven, and I want you to be there with me. Are you saved?' This friend was like an older brother to me, so what he said had weight. I thought, 'Oh man, this is great. Now that I'm successful and have all this stuff going for me, he starts talking about God.' I had no idea what 'saved' even meant. I hadn't been inside church in probably 20 years. And the church that I'd gone to as a child never talked about salvation, so I didn't know anything about it. He sent me a Bible, and I started reading, and God started revealing Himself to me."
As the words on the page spoke into Lenny's life, he found himself torn up about the choices he'd made in the past. "I was just eaten up with guilt because I'd left my family six or seven years before that, for my career. God started revealing to me how I was in need of Him. His love melted my heart. I started crying out to God for forgiveness, and I become born again right there in my house."
Lenny's friends suggested that he might be losing his mind.
"They thought I was nuts, that I was going off on some religious tangent, but I'd found the Lord."
At that time, Lenny was signed to Capitol Records as a solo artist and had one record left on his contract. As he sat down to write songs for that record, praise and worship—not pop lyrics—fell from his lips.
"Every time I'd write a song, by the time I got to the chorus it would be about what Jesus had done in my heart. I called my manager in Los Angeles and said, 'Do you think they'd let me out of my record deal?' He thought I was completely crazy."
Crazy or not, Capitol Records agreed to put Lenny in suspension of his contract—he couldn't record for another label unless they bought out his contract. This was unlikely, since Christian music was still a relatively small industry in 1981. Few Christian record labels could afford to buy Lenny away from Capitol.
Forced into an early retirement from the music industry, Lenny—a talented craftsman as well as musician—made stained glass. Often he'd get a job creating a window for a church, and the church would ask him to give his testimony to the youth group, sing a song during the Sunday morning service or give a Saturday night concert. At the same time, Lenny was still writing. But his songs were no longer about worldly matters. They were about the things of Godl. By the time Lenny had written more than a dozen Christian songs, God began to open new doors.
Lenny soon met many of the key figures in Christian music, including Michelle Pillar, who recorded three of his tunes. Two years after he left Capitol Records, Capitol realized that no one was willing to purchase Lenny's contract. They let him out of the agreement. Now Lenny recorded his own albums, this time for smaller Christian labels. But industry shake-ups and financial considerations at the labels often interfered with his releases, leaving a sour taste in Lenny's mouth.
"I got really frustrated with the whole industry," Lenny says. "I thought, 'This is the kind of stuff that goes on in pop music." All these Christian artists wanted to cross over to pop music, and I was saying, 'Wait a minute. You don't want to go there. You don't want to go there!'"
Have something to say about this article? Leave your comment via Facebook below!
advertise with us
Example: "Gen 1:1" "John 3" "Moses" "trust"
Advanced Search
Listen to Your Favorite Pastors