Song Story: "Word of God Speak" by Mercy Me
Melissa Hambrick, Contributing Writer
Wednesday, June 23, 2004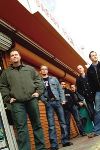 Four o'clock in the morning is a good time for Bart Millard. The outgoing lead vocalist for Mercy Me and award-winning songwriter does a lot of good work in the wee hours—even if he doesn't always remember it.
Being on the road means a lot of late nights for the guys in the band—loading up gear after performing for several hours and greeting fans for several hours after that, finding the closest all-night greasy spoon or fast-food drive-thru, and then settling in to get some sleep.
To find out more about MercyMe's latest best-selling album, Undone, click here.
For Mercy Me, that endless cycle was made even more complicated by the fact that they were touring in support of the huge hit single "I Can Only Imagine," and were booked solid for months. Meanwhile, it was time to start working on the follow-up project to Almost There—and there was just no time in their crazy schedules to write songs or hit the studio.
So producer Pete Kipley joined the band on the road. Wherever their travels took them, Pete and the band would find time to work on the new album. In between morning and evening services at church camps in places like New Mexico and Georgia, the band would head back to that week's temporary home for musical inspiration.
Not that inspiration always came. Or did it? One night, Bart hit the sack thinking about how burned out he was. Traveling and making a record was exhausting.
"I went to bed just really frustrated," he recalls. "It started feeling like everything I was saying was the same. I just thought, I have nothing else to say. So I went to bed with that on my mind."
About 3 or 4 in the morning, Bart suddenly woke up. Grabbing his journal, he began to write:
I'm finding myself at a loss for words
And the funny thing is, it's okay
The last thing I need is to be heard
But to hear what You would say
Word of God speak
Would you pour down like rain
Washing my eyes to see
Your majesty
And then he tucked away his journal and went back to sleep.
A few weeks later in Nashville, Mercy Me was finally putting the finishing touches on their new album, Spoken For. Rummaging through his things, Bart pulled out a journal and began to read. It's vaguely familiar, he thinks, and it is my handwriting. These lyrics are amazing! And then the dreamlike moment came back to him—and soon became the beginning to one of Mercy Me's most popular songs.
"We never stopped while making that record," says Bart. "We're in the studio, and at four in the morning, our producer says, I wish we could get one more song on this record. I wish we had more time. So I said, I've got an idea, and showed him the lyrics."
In the early morning hours at the studio, the two hashed out the music and finished the lyrics to Word of God Speak in about 30 minutes. They recorded the piano that night, and the next morning arranged for someone to come in and add the strings. The whole song was complete in less than 48 hours.
It was important to Bart that the song remain stripped down—just a simple piano and vocal song without the band, even though he knew that adding full production could make the song a huge radio hit.
"I really like this song being piano, I like what it says," Bart says of the way the simple production mirrors the lyrics of the song. "Sometimes our limited vocabulary is almost impossible to use to speak of an infinite God. There are just no words to use. And that was the first line—I think sometimes we say a little too much, and the more we talk, it seems the further we get from the word of God."
Bart reflects on a contemporary Christian classic as a partial inspiration to the song. "There's an old Larnelle Harris song called I Miss My Time With You, and that song came to mind as we were finishing Word of God Speak. It's the idea that God's been sitting here saying, Just hush for a second and let me get a word in edgewise. It took a long time and a lot of work to get me to that point to just shut up."
Have something to say about this article? Leave your comment via Facebook below!
advertise with us
Example: "Gen 1:1" "John 3" "Moses" "trust"
Advanced Search
Listen to Your Favorite Pastors