Songwriting Success
Billy Foote, Contributing Writer
Wednesday, April 27, 2005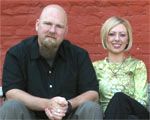 Some writers write from an emotional perspective, but our feelings can change from day to day. Who God is never changes. When you sense a song welling up in you, do you simply write down everything that comes to mind or do you also make time for study on whatever subject the song contains? As I write this article, I am in the middle of working on two songs. One is on the power of God, and the other deals with the fear of the Lord. At this point, I am not writing lyrics. I am researching the scriptures anywhere the power or might of the Lord is mentioned. I'll do the same regarding the fear of the Lord. The truth is that I might not ever write a song on either subject. If I don't, that will be fine. I will have a better understanding of the power of God and deeper insight into the fear of the Lord. If I do write a song on these subjects, I will most definitely have the authority of the Word of God behind these songs. Let us continue to use our God-given talents to paint pictures that give glory to a great God.
In closing, I want to encourage those of you who are reading this article to keep writing. It is easy to get caught up in what songs are on Christian radio and CDs and feel that those are the only ones that matter. Many of us have songs that may never be picked up by other bands or Christian labels. Some of us will write songs that we alone will sing to God. Still some will write songs that only their local church body will use. But let the "success" of our songs be measured by this: Do they bring glory to God? Do they accurately represent His attributes? Do they encourage and teach the Body of Christ? That's all.
Billy Foote and his wife Cindy live in San Antonio, TX. Billy is an itinerant worship pastor whose main goal is to help believers incorporate worship as a daily lifestyle rather than just in song. He has traveled full-time for fourteen years, leading worship for youth, college and church-wide events. God has gifted him most in the areas of worship leadership, guitar skills and song writing. Some of the songs God has given Billy to write are widely-known including "You Are My King" (Amazing Love), "Break Our Hearts," "Sing To The King" and "I Have A River." To learn more about Billy's work and ministry, visit his web site at www.billyfoote.com.
/p>
Have something to say about this article? Leave your comment via Facebook below!
advertise with us
Example: "Gen 1:1" "John 3" "Moses" "trust"
Advanced Search
Listen to Your Favorite Pastors