Takin' It to the Streets
Lou Carlozo, Contributing Writer
Friday, September 05, 2003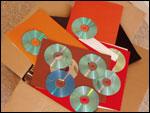 In past articles on Songs4Worship.com, I've taken readers through various ways to prepare for and record an album. But even with the most painstaking care in songwriting and recording, too many praise and worship artists-not to mention mainstream ones-leave a crucial detail until last frantic minute: how to market the CD.
That's understandable: Most folks get into music for artistic rewards, not financial ones. That said, it still costs at least $2,000 to press 1,000 copies of a CD (assuming near-zero recording costs). That's a considerable investment. And to not take a serious stab at promoting your finished CD is a sin-yes, a sin-for these three reasons:
It's hiding your musical bushel under a bed, not putting it on a lamp stand.
It's reducing the fruit of your God-inspired efforts to a vanity pressing.
It's failing to use the same creativity you used in making your recording to market it.
So read on, and learn that a great marketing campaign-just like a great recording session-need not cost the equivalent of a mega-church's Sunday collection. What it takes is planning, persistence and a partnership: You take care of all the grunt work and seed planting and God, to quote Keith Green, will take care of the rest!
1) MAKE A PRESS KIT: "Who do people say that I am?" Jesus once asked his disciples. The late Bob Briner, author of Roaring Lambs, put a creative spin on this: He took it to mean that even Jesus knew the value of good public relations. To SELL, first you have to TELL. And a wonderful way to tell people about your music is to get press.
To do that, you should assemble a press kit to send to media people and music critics. It need not cost anything to put together a first-class kit (and believe me, as a Chicago Tribune staff writer, I've seen thousands). A great press kit should include:
A quality black and white photo. Avoid clich'd backgrounds (brick walls) and stress close-ups of faces over full body shots. Remember, photos get shrunk in print.
A one-page band bio. Make it clever, brief and avoid meaningless superlatives. ("Cleveland's best praise and worship band.") Instead, give concrete-and clever-comparisons. ("Sounds like Toby Mac, Larry Norman and Phil Keaggy in a muddy tug of war.")
A one-page quote sheet. Get anyone, even fans, who have heard your band to give good quotes. Approach local Christian bookstore owners. Email record company people who've heard and liked your work (even if they haven't signed you). Nothing wrong with persistence and push here; quotes on book jackets often come from people who haven't even met the author!
The CD, but with "suggested tracks." Point press people to your best stuff. They are creatures of stress and deadline, after all.
Once you get some good clips, add them to your press kit! It's fun to watch it grow. And if you're looking for reviews of your CD, don't forget the Internet. Web sites like The Phantom Tollbooth (www.tollbooth.org) are good about reviewing unknown artists. But don't be passive: Follow up your mail and wrap it in an outrageous or memorable envelope (so when you call, you can say, "The band with the CD in the purple foil bubble wrap." THAT they will remember.)
2) TAKE IT TO THE WEB. At gigs or from your car trunk, what's the potential audience for selling CDs? Now: Ponder that question when considering the World Wide Web. A professional Web site will help spread the word (for an example, see my band's Web site, at bluelitsouls.com). Even better: See if you can get on a Web site that sells independent music and has built-in traffic. CD Baby and Paste Music specialize in rock-oriented indie music (both tend to be selective in their quality control). More praise-oriented sites include DelicateFade.com and WorshipMusic.com-which, along side big-name artists, claims to feature "the largest collection of quality independent label worship music." Hey, that could be YOU!
Have something to say about this article? Leave your comment via Facebook below!
advertise with us
Example: "Gen 1:1" "John 3" "Moses" "trust"
Advanced Search
Listen to Your Favorite Pastors