What Are We Singing: Lead Me to the Cross
Eva Marie Everson, Crosswalk.com Contributing Writer
Friday, August 05, 2011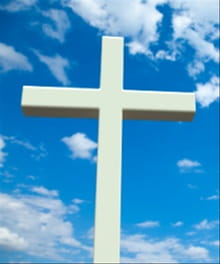 In other words, "Shhhh."
And Once the Quiet Settles In …
Once the quiet settles in, we hear and understand the rest of the song. Redemptions hill … noting what took place there, what the Christ – God's only Son – sacrificed for us, we then take a look at what we hold on to. What we think of as "priceless." What we might, even, put before our time with him.
I'm guilty, too.
The words we sing within this song remind me that as Jesus was stretched out – naked, bleeding, broken beyond recognition – on Calvary's Cross, I must fall on my knees and rid myself of all I think important, of all I have convinced myself I cannot let go of.
…of that part of me I think is so wonderful but is, in his sight, draped in filthy rags. Then, as his blood pours over my kneeling form, the Father no longer sees anything but the beauty he placed in me at the time of my birth. The perfection – the completion – he designed me for.
And this is where his heart beats most powerfully… in perfect communion and communication with his child. His children. Those he sacrificed his Beloved for, allowing him to take on our filth and us to take on his glory.
But if we are to fully understand this, we must be drawn to it. To be drawn to it, we must hear the call.
To hear the call … we must quiet our souls.

How to Find the Quiet
So then how do we accomplish this? I have found – for myself – that in order to quiet my soul, I must first quiet the life around me. I typically go into my bedroom, close the door, and meditate on God or one of his attributes. It takes effort, at times, to tune out the noise from outside the walls of my home but it can be done. (Suzanna Wesley – mother to Charles and John – used to throw her apron over her head, signaling the children to leave her alone for a time. My mother, I remember, used to hide in the bathroom.)
Like many people, I find the quiet can be frightening. If we listen in the quiet for God to speak to us, we sometimes become afraid of what he may have to say. We fear those moments of revelation (which may be one reason why we keep the noise going).
Years ago I learned that if I could be quiet for just one minute … just one … I would be drawn to it. Desiring it, I'd stretch that one minute to two …to three… and so on. Soon, quiet time with God became the most important moments of my day.
One minute, you may be thinking, isn't that long.
Oh, really?
I was speaking at a women's retreat a few years back when I asked the ladies to sit in complete silence for one minute. Just sit and listen as God's heart spoke to theirs. About fifteen seconds into the sixty, I spied the worship director reach over to her sound equipment. With the flip of a button, soft music filtered throughout the room. It was lovely … but it wasn't silence.
My Challenge to You
I challenge you now. Spend one quiet minute with God today. Try not to talk; try only to listen. Tomorrow, do the same. And the next day, and the next, and so on. Soon you will find yourself drawn to him.
Quiet, your soul will remember … and you will be awed by what you hear within the remembrances.
Eva Marie Everson is the coauthor of the award-winning Reflections of God's Holy Land and the recently released Things Left Unspoken. For more information about Eva Marie or to book her to speak at your next event, go to: www.EvaMarieEverson.com
Main article photo copyright Eva Marie Everson, Basilica of the Transfiguration, Mount Tabor Israel
Original publication date: August 5, 2009
Have something to say about this article? Leave your comment via Facebook below!
advertise with us
Example: "Gen 1:1" "John 3" "Moses" "trust"
Advanced Search
Listen to Your Favorite Pastors