What is Worship? Changing the Life of a Child
Melissa Hambrick, Contributing Writer
Thursday, December 09, 2004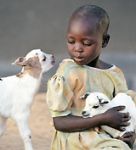 What is worship? Is it the intangible moment of peace you feel in communion with God? Is it a Sunday morning of voices raised to the glory of His works? Maybe it is a child in need, halfway around the world, and the hands, heart and hope that make her life possible?
Helping a child halfway around the world can sometimes feel intangible. But next time you are in the moment, singing a song of worship to the Lord, close your eyes and remember this story that recording artist and World Vision child sponsor Margaret Becker shares.
There is worship all over the world. You've never heard anything as beautiful as Africans singing their worship to Christ. A friend of mine just recently returned from a World Vision trip where she was invited to a "school."
But in this region, the idea of school was brand new. She was floored when she arrived at a field where a lone fallen branch lay. That was the "school."
There in the rain stood about 20 children, dressed in their best. She wept openly as they stood and sang "It is Well With My Soul" to her. She knew that many of them had lost all their family. Some had no parents. Some hadn't eaten that day. Yet there, in the midst of what we would consider horror, they sang "It is Well."
That is worship.
That is where we all come together—West and East, North and South. It was their "reasonable service of worship" in that moment. It makes me more cognizant of what mine should be in return.
Making a Difference
Luke 12:48 says is simply and poignantly: "And to whomsoever much is given, of him shall much be required." (ASV)
Look around. How much has the Lord given to you—and what are you giving in return? We offer up our voices to Him in worship, but are we also willing to give our lives in service, or—sometimes more painfully—our hard-earned dollars?
In the United States, churches are responding to growing opportunities to come alongside poor communities where World Vision works. World Vision sees itself as a bridge between U.S. churches and churches and communities in poor countries. All Christian congregations, whether rich or poor, can be transformed through relationships with one another.
That's why dozens of U.S. churches are shining the light of Christ, and subsequently, witnessing the reality of this transformation as they enter into partnership with World Vision to sponsor children, and help communities and churches in developing countries.
In Dayton, Ohio, Omega Baptist church and five other area churches are ore than halfway to reaching their goal of sponsoring 500 families in Ghana.
East of Seattle, in Bellevue, Washington, three churches—Westminster Chapel, Overlake Christian, and First Presbyterian Church—are walking alongside the budding Cambodian Church and the Cambodian people. Today these congregations sponsor more than 500 children in Cambodia's Kompong Thom region, and specialist teams from the three congregations work directly with the people and churches.
"A partnership that connects a congregation to a specific place and people in the world is probably the most powerful opportunity to move a congregation toward deeper commitment," said the Rev. Mark Carlson of Westminster Chapel. "Involving other churches on the ground floor also is a powerful way to connect churches together across denominational lines."
She's Praying For Me?
Margaret Becker has a busy life. Her latest album, Forever Yours, reflects the beauty of the Psalms. "I love worship," she says. "I lead worship in my local church, and it is among the most satisfying experiences I've ever had. To be lost in God's presence, out of the way so that others can be lost as well—it is amazing."
She writes amazing songs, she makes albums, she performs all over the country, she writes books—and for nearly two decades, she has been involved with World Vision on a personal and professional level. And, she says, it has changed her life:
Have something to say about this article? Leave your comment via Facebook below!
advertise with us
Example: "Gen 1:1" "John 3" "Moses" "trust"
Advanced Search
Listen to Your Favorite Pastors