When Artistic Preferences Hinder Worship
Joy Allmond

Crosswalk.com Contributing Writer

2011

6 Jun

COMMENTS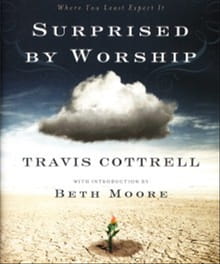 Just like many of us, Travis Cottrell once had his own expectations of what worship should look like, sound like and feel like.
Best known for leading worship at LifeWay's Living Proof Live events that feature Beth Moore, he leads thousands of people in worship each year. This means he leads people with diverse backgrounds and varied worship style preferences.
In his book Surprised by Worship (Zondervan, 2010), Cottrell recalls things the Lord did in his life to overcome his preconceived notions about God's expectations of us, and to bring him to a place where he could begin to engage the crowds in authentic, biblical worship.
As a teenager growing up in Boone, N.C., he was fully immersed in religious life, having known and loved Jesus from an early age. On one particular Sunday, he recalls the choir filing into the loft, just as they normally did, and singing the chorus of "I Love You, Lord."
Then, the worship leader did something Cottrell was not used to. He turned to the congregation and asked them to stand and join in. It took him by surprise—not only was the song fairly new (thus widely unknown), but it felt a bit odd to him.
He found himself singing along. What happened next in the heart of what he describes as an "obnoxious, opinionated teenager" was a quieting of his soul, now engaged in worship.
"I was caught off guard, not only by the change in the worship, but even more by my own response," he said. "Worship could be different and still be worship."
Leading Others
Because of the nature of the Living Proof Live conferences, much of Travis' ministry has been multi-denominational, with worshipers from varying church backgrounds.
"When you come to an event like Beth's, we all bring our own expectations of what worship is supposed to sound like, what it is supposed to look like, how long it is supposed to last, how loud it is supposed to be, and what instruments are supposed to be used," Cottrell explains.
As a worship leader and a musician, Cottrell admits that worship is not about the music.
He believes one of the main objectives of any worship leader is to impart a true definition of worship to those he or she leads. "As a worship leader, you can run yourself ragged trying to please everybody. But, one of our goals is to redirect any false presupposition of what it means to truly worship," he urges.
"Worship has nothing to do with the sound of the music. My job is to get down to why we do what we do and express to the people why are we singing these songs in the first place, and for Whom we are singing."
Cottrell says this from varying vantage points: both distant from and close to those he leads. He does more than lead thousands of (mostly) women at Living Proof Live conferences; for the past year he has been the worship pastor at Englewood Baptist Church in Jackson, T.N. Now, he has the opportunity to pastor a congregation on a regular basis.
"It's been interesting going from being a conference worship leader with pastoral tendencies to actually getting to pastor people close up. So more than ever, I am learning to try to make less and less of our music and more and more of our worship of Jesus. Now that I live among and shepherd a specific group of people, I can help them to connect to God in a stronger way, and perhaps even push them a little when needed."
When Worship Style Hinders
It is no secret that one of the most common conflicts in churches is worship music style. So, if you are a worship leader, how do you help the people in your congregation get over that obstacle?
"For me, especially over the past year, as I have been learning to pastor people through songs, I've really tried to take the music out of it. They need to understand that it is not about that at all," Cottrell explains. "Music is vehicle that help our hearts to be positioned in the right place. But, the bottom line is that we really need to strip our preferences away when it comes to worship our Lord. We need to focus on what His Word says about that."
As a worship leader, and especially as a worship pastor, Cotrell says it is important to gain the trust of those he pastors in order to help them move beyond the obstacle of preference.
"People will follow leaders they trust. And they trust leaders that are vulnerable before them. A leader needs strength, but he also needs vulnerability."
So how does a leader do that?
Cottrell says it's tempting for a leader to appear as though he or she is in full control and they have it "together." So, in addition to being vulnerable, another way to gain the trust of those you lead is to talk about why you do what you do. "Give them moments to reflect on a song or a scripture before you jump in and sing it," he advises. Allow the Holy Spirit to create what He wants for you on a particular day."
If you are having trouble getting over the hurdle of preference, it is crucial to remember Whom you worship and why you worship. Our worship is in response to Who Jesus is, and what He did for us, not in response to what feels good, feels right or feels familiar.
Cottrell has advice for everyone, whether you are the person on stage leading or the person in the pew. We're not going to be perfect in our worship or in anything else we do because of Him or for Him.
"God does not expect perfection from us. He knows what He's working with. God is perfect for us. Worship with that in mind, and just rest in that truth."
Joy Allmond is a writer for billygraham.org. She lives in Charlotte, NC with her husband, two step sons and two dogs. In her very little spare time, she can be found working on her latest culinary experiment, watching college basketball or buried in a book. She is pursuing a Master's degree in Biblical Studies. Follow her on Twitter at http://twitter.com/joyallmond
Publication date: June 6, 2011