When Artistic Preferences Hinder Worship
Joy Allmond, Crosswalk.com Contributing Writer
Monday, June 06, 2011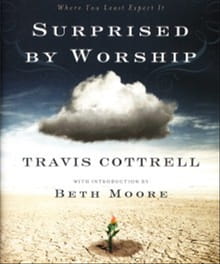 Just like many of us, Travis Cottrell once had his own expectations of what worship should look like, sound like and feel like.
Best known for leading worship at LifeWay's Living Proof Live events that feature Beth Moore, he leads thousands of people in worship each year. This means he leads people with diverse backgrounds and varied worship style preferences.
In his book Surprised by Worship (Zondervan, 2010), Cottrell recalls things the Lord did in his life to overcome his preconceived notions about God's expectations of us, and to bring him to a place where he could begin to engage the crowds in authentic, biblical worship.
As a teenager growing up in Boone, N.C., he was fully immersed in religious life, having known and loved Jesus from an early age. On one particular Sunday, he recalls the choir filing into the loft, just as they normally did, and singing the chorus of "I Love You, Lord."
Then, the worship leader did something Cottrell was not used to. He turned to the congregation and asked them to stand and join in. It took him by surprise—not only was the song fairly new (thus widely unknown), but it felt a bit odd to him.
He found himself singing along. What happened next in the heart of what he describes as an "obnoxious, opinionated teenager" was a quieting of his soul, now engaged in worship.
"I was caught off guard, not only by the change in the worship, but even more by my own response," he said. "Worship could be different and still be worship."
Leading Others
Because of the nature of the Living Proof Live conferences, much of Travis' ministry has been multi-denominational, with worshipers from varying church backgrounds.
"When you come to an event like Beth's, we all bring our own expectations of what worship is supposed to sound like, what it is supposed to look like, how long it is supposed to last, how loud it is supposed to be, and what instruments are supposed to be used," Cottrell explains.
As a worship leader and a musician, Cottrell admits that worship is not about the music.
He believes one of the main objectives of any worship leader is to impart a true definition of worship to those he or she leads. "As a worship leader, you can run yourself ragged trying to please everybody. But, one of our goals is to redirect any false presupposition of what it means to truly worship," he urges.
"Worship has nothing to do with the sound of the music. My job is to get down to why we do what we do and express to the people why are we singing these songs in the first place, and for Whom we are singing."
Cottrell says this from varying vantage points: both distant from and close to those he leads. He does more than lead thousands of (mostly) women at Living Proof Live conferences; for the past year he has been the worship pastor at Englewood Baptist Church in Jackson, T.N. Now, he has the opportunity to pastor a congregation on a regular basis.
"It's been interesting going from being a conference worship leader with pastoral tendencies to actually getting to pastor people close up. So more than ever, I am learning to try to make less and less of our music and more and more of our worship of Jesus. Now that I live among and shepherd a specific group of people, I can help them to connect to God in a stronger way, and perhaps even push them a little when needed."
When Worship Style Hinders
It is no secret that one of the most common conflicts in churches is worship music style. So, if you are a worship leader, how do you help the people in your congregation get over that obstacle?
Have something to say about this article? Leave your comment via Facebook below!
advertise with us
Example: "Gen 1:1" "John 3" "Moses" "trust"
Advanced Search
Listen to Your Favorite Pastors