The Power of Camp
Jeremy V. Jones, Contributor
Friday, June 08, 2012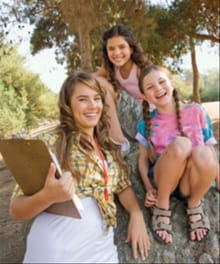 Is it any wonder that simply stepping away from the frenzy can bring life-changing perspective? "Something sacred happens when you remove students from outside distractions and live life with them," says Chad Herman, a church middle school director after taking his students to Pennsylvania's Rock Mountain Bible Camp. "Walls break down, friendships happen, memories are made, unspoken issues and struggles are revealed and God speaks."
Anyone who has ever experienced the refreshment of a vacation or the renewal of a spiritual retreat can identify. But today's camps take those concepts a few steps further. Kids find nurturing environments filled with friends and fun, adventurous activities — all within beautiful natural settings that seem a world away from the problems or distractions they left at home. Speakers and youth workers provide relevant and engaging content to help kids grow. And mentors are constantly available to listen, counsel and encourage kids through questions and struggles.
All of these factors help to create what Gregg calls temporary community, a setting free from the pressures and burdens from peer groups, parents and even kids themselves. "Kids start to see themselves in a new light, as the people they want to be rather than the people they have to be," Gregg says. "And with this new vision for their future opened up to them, they feel free to consider a relationship with the God who made them and loves them unconditionally.
The sense of acceptance and unconditional community can stabilize broken self-esteem and fuel new confidence. Of course, the transformations that take place are as unique as the campers themselves.
"I had never experienced Christian grace," says Heather, who grew up in an abusive home. "But during my summer at Doe River Gorge, I experienced for the first time what it was like to be known and accepted for who I was, not what I had done."
One 11-year-old boy named Austin chose to attend camp at the Texas-based Rockin' C Ranch even though his stepfather was in hospice care, dying from leukemia. "I remember him telling us that he chose to come back to camp because he knew he would be surrounded by Christians who would pray for him and his family and would love him and comfort him though it," says Amber Payne, assistant director at Rockin' C.
And in Michigan a fatherless teen discovered mentors who continue to influence him years later. "Through Grace Adventures I was shown what it looked like to be a godly man," Matthew De Renzo says. "The staff mentored, taught, and became role models in my life. Many of these staff members are still in my life and are who I look up to."
Giving Back
The average camp may last a week, but it's not uncommon for camp-forged bonds to extend far beyond. Often those who experience the greatest impact return as counselors to pour what they've learned into the lives of others. Sometimes those kids seem the least likely to turn into counselors when they first arrive as campers.
Zach Falki couldn't even look at adults who were speaking to him when he first arrived at southwestern Pennsylvania's Jumonville. The then-15-year-old was referred to Jumonville's H.O.P.E. Camp (Help Overcoming Problems Everyday) by his counselor because he was so painfully shy and withdrawn. The counselor hoped simply to get Zach through a week that would help him build socialization skills. It did more than that. "Zach seemed to find a niche," says Ree Enlow, Jumonville's program services director. "He not only came to camp, he grew at camp."
Zach returned the following summer and asked to become a counselor in training. "I just looked at him and said, 'Zach, are you sure you know what that means?'" Ree says. "'That means you're going to be in front; you're going to be a leader.' And he said, 'Yes Ms. Ree, I'm ready.' When his mom picked him up, she burst into tears and said, 'I don't know what you've done to my son.'"
Recently on Youth Ministry
Have something to say about this article? Leave your comment via Facebook below!
advertise with us
Example: "Gen 1:1" "John 3" "Moses" "trust"
Advanced Search