1001 Surprising Things... - Book Review
Lizza Connor

Book Reviewer

2002

4 Nov

COMMENTS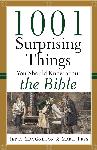 Authors:     Jerry MacGregor and Marie Prys
Publisher:  Baker Book House
Not your typical, deep Scriptural examination, 1001 Surprising Things is a little book chock-full of fun and informative facts about the Word.
You'd be hard pressed to find bits like Fact No. 5 in other interpretation tools:  The Bible is the world's best-selling book as well as the world's most shoplifted book.
How about Fact No. 811:  Professional mourners were called in at times of sorrow to express mourning for the dead in Hebrew times (just like singers hired for a Western funeral).  Not a job I'd want to have!
The 224-page reader is comprised of three sections:  "How the Bible Came to Be," which offers an overview of the book's origins; "The Whole Story," which provides facts and details related to Old and New Testament writings, miracles and prophets; and "Bible Times and Trivia," which exposes the cultural norms and mores relating to each biblical era.
Overall, the reader can skim through at will or read in one sitting and go away greatly enlightened.
Used by permission.  CCM Magazine © 2002