John P. Kee, Author of Not Guilty! The Script
Wednesday, March 05, 2003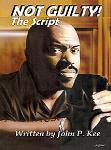 I was booked and placed under arrest in violation of North Carolina General Statute 90-95-A1—"a felony possession to manufacture, sell, or possess, with intent to sell a controlled substance."
I called my wife, Felice, and assured her that everything was OK.  I told her to contact our attorneys.  I also told her to contact my manager, Jeanette Taylor, and prepare her for a media frenzy.  Felice was a little upset at first.  But because of my innocence and the fact that she understood and knew my call, she was able to maintain a measure of peace that would be appreciated in times to come.  I told her to take care of our six kids—Tredell, eight months, John-John, three, Aieisha, fifteen, Shannon, sixteen, Christopher, seventeen, and Justin, seventeen—and let them know that Daddy was OK and would see them in a few days. 
The following Monday there was a bond hearing.  My bond was set at $250,000.  My attorneys and I were outraged.  But then a still small voice spoke to me and said, "This is God's plan."  On principle, I decided not to post bond and chose to stay in jail.  In order to do this, I realized that I would need a few people on the outside to cover for me.  As David and Jonathan had a blood covenant relationship in the Old Testament, I too had one with my friend and Christian brother Regi Miner.  I told him that if anything were ever to happen to me, one of the things I would want him to do is take care of my family.
Regi and I had known each other for fourteen years.  Through smart investments and concrete foundational business practices, the Lord blessed us and gave us a sense of stability to reinvest in our vision to serve Him in the inner city.  I was allowed to call Regi and update him on everything that had occurred thus far.  I asked him for his true opinion.  He told me he understood my stand, but he was concerned first about my family, and secondly about my church.  I assured him that his opinion was important to me and that was the reason I had called him.  I knew if he gave me his word, he would do everything to keep it.  We had a silent partner named Carla Reed, who had worked with us in the area of video production.  She was a sharp, intelligent lady and a program director for a national black entertainment firm.  Since we were in the middle of production on several projects, Regi suggested that I call Carla and get her opinion.
Carla had a different take on matters.  She felt that my arrest was dumb and didn't make sense.  I should pay the bail, get out of jail, and deal with it at a later date, she advised.  I stayed on the phone with her for an hour.  I absolutely could not alter her opinion.  Still, she promised that she would take care of what she could and place everything else on hold until this situation was cleared. 
I shared with Regi and Carla that I would ask Elder Ben Truesdale, a close friend and business partner, and my older brother, Alphonza Kee, to cover the church.  There were a few other associate ministers who would assist them in any way necessary.
Ben was one of the chief negotiators for the church and my ministry's corporate business affairs.  I knew he was somebody I could trust to keep things in order.
Then there was my brother Alphonza.  He was not your everyday preacher, but he had successfully run a program in our church called One Step.  The One Step program was designed to compensate for some of the shortcomings of our nation's twelve-step programs.  I found that people who had come out of twelve-step programs had received an abundance of facts and information but lacked a true sense of God's power or authority to bring healing to their lives.  I knew that the only power strong enough to help a person overcome an addiction to cocaine was Jesus Christ.  I didn't know this by reading materials, pamphlets, or watching New Jack City.  I knew it be experience and through my own testimony.  From cocaine to prescription tranquilizers, I had been locked in bondage and needed a way out.  I have been clean for twenty years now, and I know in my heart that the only true deliverance comes in having a personal relationship with the Lord Jesus Christ. 
Have something to say about this article? Leave your comment via Facebook below!
advertise with us
Example: "Gen 1:1" "John 3" "Moses" "trust"
Advanced Search
Listen to Your Favorite Pastors