A Bride So Fair
Carol Cox, Author
Saturday, March 01, 2008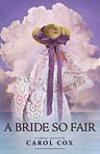 At the edge of her vision, Emily saw Miss Strickland's rigid posture grow even more erect. She fumbled with the heavy black book that lay open on her desk. "I apologize for the delay. I wouldn't have been late, except—"
"Excuses are unacceptable. "Miss Strickland's harsh voice broke in. "I don't tolerate tardiness for any reason."
Emily clamped her lips shut to hold back the explanation she longed to give. She ought to have known better than to tarry long enough to give the Columbian Guard her version of what had transpired, but she couldn't find it within herself to let that boy get away with stealing the vendor's merchandise.
She looked up at the boy's mother and forced a smile. "If you'll just give me some information, I'll check Alexander in and you can be on your way." She entered his name and his mother's in the ledger then pinned a numbered tag to the boy's back and handed his mother a claim check bearing the same number. "Please keep this in a safe place. You'll need it when you come back to pick up your son. Miss Welch will take Alexander to the gymnasium. I'm sure he'll enjoy that."
She beckoned to Lucy, who had been hovering in the background, then turned back to the boy's mother. "Enjoy your time on the grounds. He will be well cared for."
Looking somewhat mollified, the woman slipped the ticket into her reticule and turned to leave. Just before she reached the door, it swung open. A man in the uniform of the Columbian Guards smiled and held it open for her; then he stepped inside. His glance wavered between Miss Strickland and Emily before he approached the reception desk.
She stared up at him, panicking at the thought that her attempt to do the right thing was going to cause her even more difficulty. "I already told the other guard everything I know."
Miss Strickland raised her eyebrows and moved toward the desk with a firm stride. "Bad enough to be tardy. What other trouble have you gotten yourself into?"
"It's no trouble of this young lady's making." The guard stepped to one side, and Emily realized a small boy encased in a heavy woolen coat stood behind him. The tall guard lifted the toddler into his arms and smoothed the boy's tousled blond hair. A smile lifted the corners of his dark mustache when the boy sniffled and snuggled against his shoulder.
Then he turned the smile on Emily, and she felt as if a giant vacuum had sucked all the air out of the room. She stared open-mouthed until Miss Strickland prodded her between her shoulder blades. Emily sat bolt upright and felt her face flame. "How may I help you?"
Before the guard could respond, Miss Strickland leaned toward Emily and looked her straight in the eye. "I expect a high degree of professionalism from you, Miss Ralston. Your attitude reflects on the entire staff of the Children's Building. Please keep that in mind." Her heels clacked against the floor as she crossed the open court that occupied the center of the building and disappeared down one of the side corridors.
Emily drew her first easy breath since the larcenous boy had crossed her path. She knew perfectly well what she had to do, and she could do it much better without her supervisor looking over her shoulder. She nodded a greeting at a couple who entered with two small children in tow then turned back to the waiting guard.
"I'm sorry for the interruption. What can I do for you?"
The dark-haired guard hiked the child higher on his shoulder. "This little fellow seems to have lost his family."
Emily took a closer look at the little boy, noting the tear streaks on his cheeks. He couldn't be more than three years old. She felt her heart go out to him. Standing to put herself on a level with the child, she adopted a cheerful tone. "We have lots of things for you to do until we find your parents. Would you like to stay here while this nice man tries to find them?"
Have something to say about this article? Leave your comment via Facebook below!
advertise with us
Example: "Gen 1:1" "John 3" "Moses" "trust"
Advanced Search
Listen to Your Favorite Pastors