A Bride So Fair
Carol Cox, Author
Saturday, March 01, 2008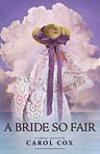 The youngster buried his face in the guard's neck and shook his head. "I want Mama."
Emily swallowed hard. She reached up to rub his back with a gentle touch. "What's your name?"
The boy sniffled again then raised his head and looked at her. "Adam."
"All right, Adam." At least he was old enough to tell her that much. Emily turned toward the desk and pulled the ledger over to her. "I'll write your name down here in this book, and then a friend of mine will come to take you to a room with lots of toys.
You can play with them until your mama comes for you. Doesn't that sound nice?"
Adam rubbed his nose with the back of his hand. Emily could see his lower lip quiver.
She dipped the pen in the inkwell and wrote "Adam" on the next blank line. She hesitated a moment with the pen poised in the air. "Do you know your last name?"
Adam shook his head.
"Do you know your mama's real name?"
He gave the same response.
The guard drew nearer and said in a low voice, "Some people found him over by the north bandstand. When the performance was over, everybody walked away but this little guy."
The father who had just entered with his family stepped forward. "Excuse me, but I couldn't help but overhear. I thought I recognized the boy. My family stopped to hear the performance at the bandstand, too. We saw his mother leave. I thought at the time it was awfully peculiar for her to go away and let such a young child stay there on his own."
The guard turned an intense gaze on the man. "You saw her leave?"
"That's right. In a hurry, too. She was practically running."
"Could you give me a description?" The guard set Adam down beside Emily, and the two men moved a few feet away.
Emily checked the couple's children in, half her attention on the task at hand, the other half focused on the story the father told while the guard made notes in a little notebook he pulled from his pocket.
"She was a nice-looking woman," the man said. "Blond hair, dark blue dress."
"With a gored skirt and a lovely shirred bodice," his wife put in. "Very up-to-date. Her hat was trimmed with matching silk ribbon and ostrich feathers."
Her husband chuckled. "Trust a woman to notice all the details of fashion."
Emily handed two claim checks to the children's mother and rang the small brass bell on her desk to summon Lucy.
Lucy appeared a moment later and gave all three children a bright smile. "Are you ready to come with me?" She bent to take Adam's hand, but Emily motioned her away.
"Just those two for now," she said. "Come back in a few minutes, and I'll explain."
The couple took their leave of their children. "We'll be back when your mother has worn me out seeing all the exhibits she's interested in," their father joked.
When the door closed behind them, the guard walked over and knelt beside Adam. "I'll go out and look for your mother now.
You can stay here with Miss. . ." He looked up at Emily.
"Ralston," she supplied.
"Miss Ralston." He gave her another one of those smiles that made her stomach do flip-flops. "She'll make sure the people here take good care of you."
The little boy's chin wobbled, but he turned to Emily and placed his hand in hers. "Hello, Miss Rost—Ralt—"
Emily smiled down at him. "Why don't you call me Miss Emily?"
Adam nodded, his expression solemn. "Miss Em'ly," he repeated. His quick acceptance sent a rush of maternal feelings through her.
Have something to say about this article? Leave your comment via Facebook below!
advertise with us
Example: "Gen 1:1" "John 3" "Moses" "trust"
Advanced Search
Listen to Your Favorite Pastors