A Bride So Fair
Carol Cox, Author
Saturday, March 01, 2008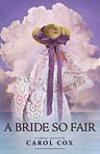 Emily reached for a stack of papers. "I suppose so. I didn't really notice."
Lucy snorted again. "Of course you didn't." She moved toward the back of the building. "Call me when you need me."
The front door swung open again, and Emily whirled around, wondering if the guard had accomplished his mission so quickly. Her heart sank when she saw the slender man who stood before her dressed in a double-breasted serge jacket and flannel trousers.
"And how is my favorite receptionist today?"
Emily pressed her lips together and didn't answer. She watched as Raymond Willard Simmons III crossed the floor with a swagger that reminded her of a strutting peacock.
What would it take to make him quit stopping by? Emily dreaded his unannounced visits almost as much as she dreaded arousing Miss Strickland's ire. If only she could tell him to leave her alone! But Raymond's father was one of the fair administrators, and upsetting Mr. Simmons would upset Miss Strickland. That was something Emily did not intend to do by choice.
She tried to arrange her features in a pleasant expression while Raymond pulled a paper bag from behind his back like a magician producing a dove from his hat.
"Something to satisfy your sweet tooth." He set the bag on Emily's desk with a flourish. When she made no move toward the gift, he opened the bag and withdrew a caramel, holding it out for her inspection. "From one of the finest candy makers in Chicago. I hope that when you enjoy them, you'll think of me."
Emily kept her smile in place, though what she would really enjoy doing was telling him never to darken the door of the Children's Building again. "Thank you, Mr. Simmons."
His broad smile drooped. "I thought we agreed we knew each other well enough to use our Christian names. Aren't you going to call me Ray? That's what my family calls me … and my closest friends." He said the last few words in an intimate whisper that was probably intended to make her heart melt. She ground her teeth instead.
"It really wouldn't be proper." Emily put all the primness she could muster into the statement.
Raymond moved closer and rested his elbows on the desk, putting his face on a level with hers. "Perhaps that's true here at the fairgrounds, where my father and I are seen as leaders. But away from the workplace, I see no reason to maintain such formality." He moved his hand toward hers. Emily immediately began straightening the papers on her desk.
Raymond didn't appear to notice the slight. "What about going to dinner with me tonight? It's time you got away from the fairgrounds and that dreary boardinghouse and saw something of Chicago. We could eat at the Palmer House—"
"Without a chaperone? That would hardly sit well with your family, would it? What would they think if word got back to them that you had been seen in public with a young lady they've never met?"
Raymond's face fell, and Emily knew she had scored a hit. His position as a member of one of Chicago's leading families meant everything to him, and he would do nothing to bring about his parents' disapproval or to risk their social standing.
Three couples entered and formed a line behind Raymond. Emily lifted her chin and tried to look as businesslike as possible. "I really must get back to work, Mr. Simmons."
Raymond straightened and gave her a sour look. He opened his mouth as if to say more but settled for a nod and exited, leaving Emily free to enter names and distribute claim checks.
Alone once again, Emily tapped a stack of papers against the desk to square their edges then set them neatly in the upper left-hand corner of her desk. Spotting the bag of caramels Raymond had left, she set it in her bottom desk drawer, out of sight. She didn't want Miss Strickland to find things in less than perfect order.
Have something to say about this article? Leave your comment via Facebook below!
advertise with us
Example: "Gen 1:1" "John 3" "Moses" "trust"
Advanced Search
Listen to Your Favorite Pastors