"A Case of Bad Taste" - Book Review
Elisa Hammer

Book Reviewer

2003

22 Dec

COMMENTS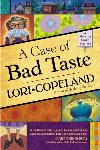 Author:      Lori Copeland
Publisher: Tyndale House

Sometimes you have just got to laugh a little, as a Margaret Becker song says. So if life's headaches are overwhelming you, "A Case of Bad Taste" may be just what the doctor ordered. Set in the tiny town of Morning Shade, Ark., Taste is a lighthearted story of three recently widowed women — Stella, the mother-in-law; Maude, the mom; and CeeCee, the daughter — brought together by adversity and even closer by a mysterious string of "burglaries" plaguing the town. If the idea of a burglar who rearranges furniture and cleans the bathrooms of his "victims" sounds intriguing, "Taste" ought to be a pleasant diversion.

There's nothing here that will change the world or win a Pulitzer Prize, but "Taste" is a humorous, carefree story of friendship, family, unlimited and unconditional love and perseverance. Through it all, the characters demonstrate faith mixed with flaws, offering a funny look at ourselves if we're willing to see so clearly.

© 2003 CCM Magazine.  All rights reserved.  Used with permission. Click here to subscribe.