A Family Worship Service for the Four Sundays of Advent
Martha Zimmerman, Author
Thursday, December 18, 2003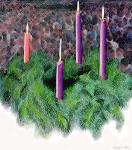 First reader: This Sunday we are remembering that Jesus came to earth to tell us of God's love.
Second reader: Our family knows that love is coming. Love is Christmas. God has become involved with us. Love asks us to be open, to be honest, and especially to trust.
Second child: (Light the second candle.) I light this candle on the second Sunday in Advent to remind us that Jesus came to earth to "show and tell" us of God's love.
First reader: John 15:9–11: "I love you just as the Father loves me; remain in my love. If you obey my commands, you will remain in my love, just as I have obeyed my Father's commands and remain in his love. I have told you this so that my joy may be in you and that your joy may be complete" (TEV).
Second reader: Philippians 1:9–11: "And this is my prayer: that your love may abound more and more in knowledge and depth of insight, so that you may be able to discern what is best and may be pure and blameless until the day of Christ, filled with the fruit of righteousness that comes through Jesus Christ — to the glory and praise of God" (NIV).
Talk together about love. Love has many voices and it speaks in many places. What are some of the voices of love? (Smiling at a friend, etc.) Where might love be spoken? (Raking leaves for an elderly person, making a card for someone who is ill, etc.)

Sing: "Away in a Manger"

Prayer time: Ask God to help us love one another. Thank Him for His gift of Love, which is what Christmas is all about.

Thought for the week: "Be sure that you act on the message [of love] and do not merely listen [to it]" (James 1:22, TLB). "And may the Lord make your love to grow and overflow to each other and to everyone else, just as our love does toward you" (1 Thessalonians 3:12, TLB).
Third Sunday in Advent

Theme: Joy

Sing: "Come Thou Long-Expected Jesus"

Reading
First reader: We have come together again to light another candle on this third Sunday in Advent. Let's review our first two candles.

First child: (Relight first candle.) On the first Sunday we lit a candle to remind us to get our hearts ready for the coming of Jesus.

Second child: (Relight second candle.) On the second Sunday we lit the candle of love.

First reader: When we open our hearts and let the love of Jesus enter, we know joy! Today's candle is for joy.

Second reader: Some people who knew the joy right away were the shepherds. After visiting the stable, they went back to their sheep, glorifying and praising God. But a lot of people living in Bethlehem missed it. They slept right through the whole thing and never knew it happened.

Another child: (Light the third candle.) I light the candle on the third Sunday in Advent to remind us that the angels said, "We have news of great joy!"

First reader: Philippians 4:4–7: "May you always be joyful in your union with the Lord. I say it again: rejoice! Show a gentle attitude toward everyone. The Lord is coming soon. Don't worry about anything, but in all your prayers ask God for what you need, always asking him with a thankful heart. And God's peace, which is far beyond human understanding, will keep your hearts and minds safe in union with Christ Jesus" (TEV).
Have something to say about this article? Leave your comment via Facebook below!
advertise with us
Example: "Gen 1:1" "John 3" "Moses" "trust"
Advanced Search
Listen to Your Favorite Pastors