A New Earth, An Old Deception
Richard Abanes, Author
Thursday, August 07, 2008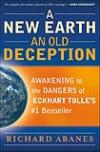 EDITOR'S NOTE: The following is an excerpt from A New Earth, An Old Deception: Awakening to the Dangers of Eckhart Tolle's #1 Bestseller by Richard Abanes (Bethany House).
Introduction
Welcome to a New Earth
[A]ll of you have joined us in this global community to talk about what I believe is one of the most important subjects—and presented by one of the most important books of our time —A New Earth: Awakening to Your Life's Purpose. —Oprah Winfrey
On March 3, 2008, Oprah Winfrey hosted a unique online class in cyberspace that reached 500,000 people in more than 139 countries. The interactive webcast, which featured spiritual teacher Eckhart Tolle and his mega-bestseller A New Earth: Awakening to Your Life's Purpose, ended up making headlines as "one of the largest single online events in the history of the Internet."
But this was only the beginning. The momentous event kicked off a ten-week, Oprah-hosted study of A New Earth and its importance to everyone's spirituality—a quest for enlightenment in a virtual classroom where seekers worldwide could ask questions via email, telephone, and Skype connections. As Oprah commented with unbridled enthusiasm during her first evening's class: "I don't think there's anything more important than awakening and also knowing what your purpose is."
The seminar was a resounding success. By week five, the number of online students watching it had risen to one million, and more than ten million copies of the previous webcasts had been downloaded by fans of both Oprah and Eckhart. It was a remarkable achievement that once more demonstrated the talk show host's giftedness in the areas of entertainment, public relations, and media resourcefulness.
Even prior to the event, A New Earth had already skyrocketed in sales. Oprah's recommendation of the volume, coupled with her listing of it as a selection for Oprah's Book Club, sent Tolle's self-help guide to the #1 spot at amazon.com and made it the fastest-selling pick in the history of Barnes & Noble. Retail sales of 3.5 million copies came through in just one month. And at Penguin—the publisher of A New Earth—Tolle's spiritual tome set a "record shipment in a four-week span" for any previously released title....
Are You Ready?
The claims made by Tolle regarding the benefits available from his teachings are impressive. Along his road of enlightenment can be found an end to suffering, solutions to psychological troubles, and even cures for physical ailments. Total peace and happiness are there for the taking as well. Addictions can become a thing of the past, and everything desired can be achieved. You can even be a better parent!
All of these wondrous blessings will allegedly occur in readers as they open themselves up to Tolle's "spiritually alive and therefore transformational" teachings, which will cause a "shift in consciousness" —a "transformation of consciousness, a spiritual awakening that he sees as the next step in human evolution." Those who embrace Tolle's ways will be able to "leap to an entirely different level of Being."
But there is more to be gained. According to Tolle, if enough people become enlightened to his truth, then humanity will finally be able to achieve worldwide peace and harmony—i.e., a New Earth populated by "a new species" of human being. Crime will be eradicated. Wars will cease. Selfishness and greed will no longer reign in our governments. Awakening is our only hope for survival, asserts Tolle, who believes that "[a] significant portion of the earth's population will soon recognize, if they haven't already done so, that humanity is now faced with a stark choice: Evolve or die."
Have something to say about this article? Leave your comment via Facebook below!
advertise with us
Example: "Gen 1:1" "John 3" "Moses" "trust"
Advanced Search
Listen to Your Favorite Pastors