A New Earth, An Old Deception
Richard Abanes, Author
Thursday, August 07, 2008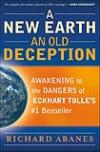 Finding the Truth
According to Oprah, the "number one question" people have been asking about Tolle's message is: "Will it interfere with my religious beliefs?" Oprah's response, as expressed through her on-site spiritual advisor, Elizabeth Lesser, has been: "I don't see why it would. It's not a belief system." And under the heading "Religion and A New Earth" at oprah.com, we find another comforting claim: "This online class is not for or against any religion."
But the truth is that A New Earth, along with Oprah's online class, promotes beliefs that contradict the Bible. Tolle's teachings dismiss the most important foundational doctrines of the church! And in reference to one of the Christianity's most sacred beliefs, Oprah herself made the following admission during a special April 9, 2008, edition of The Oprah Show, which featured Tolle's fans praising his teachings:
I thought Jesus came, died on the cross. That Jesus' being here was about his death and dying on the cross, when it really was about him coming to show us how to do it. How to be. To show us the Christ Consciousness that he had, and that that consciousness abides with all of us.
Such ideas cannot go unchallenged. Christians must "contend for the faith that was once for all entrusted to the saints" (Jude 3). This command is more than applicable to Tolle, who often quotes scripture to support his views, boldly claiming that he can provide the true teachings of the Bible based on his own understanding of what the text really means. In reality, however, he manipulates the verses in order to conform them to his views.
It is time for every Christian, in my opinion, to spiritually and mentally prepare themselves to respond to an unbiblical theology that represents a direct assault on the faith, especially in light of how it is being presented as a worldview consistent with Christian doctrine and values ( (Eph. 4:14-15; 2 Tim. 2:24-25). Believers must be both willing and able to share with clarity of thought why Tolle is in error (1 Peter 3:15). We are to "preach the Word; be prepared in season and out of season; correct, rebuke and encourage—with great patience and careful instruction" (2 Tim. 4:2). We also are told: "Present yourself to God as one approved, a workman who does not need to be ashamed and who correctly handles the word of truth" (2 Tim. 2:15).
Romans 16:17-18 further commands us to take note of those who spread any doctrines "contrary" to the Bible and "keep away from them" because they do not serve the Lord, but instead are serving another gospel, another spirit, and in Tolle's case, most definitely another Jesus (i.e., a Jesus who is redefined in a way that is inconsistent with how he is defined by scripture; see 2 Cor. 11:3-4). Jesus himself said to beware of false teachers (Matt. 7:15), as did Peter, who warned: "There were also false prophets among the people, just as there will be false teachers among you" (2 Peter 2:1).
My response is A New Earth, An Old Deception, which I hope will lovingly yet firmly address from a Christian perspective the "Truth" being offered by Eckhart Tolle. Each chapter includes a point-counterpoint refutation of his major beliefs, arranged topically. Such a format will enable a reader to easily understand exactly what Tolle says on any given issue, then see a biblically based answer to his position. To find a particular subject, all one has to do is refer to Appendix B, which lists the major questions answered in each of the numbered responses that appear in the various chapters.
Eckhart Tolle claims that A New Earth is nothing less that a "transformational device" that has arisen out of not only his own "new consciousness," but out of the "new consciousness" he sees engulfing the planet as our species moves ever closer to an evolutionary leap of the spirit. Given the troubling state of humanity, it is not difficult to understand why Tolle would long for such a change. But as the following pages will demonstrate, his hope is very different from the hope that Christians have in Christ.
Copyright © 2008 by Richard Abanes
Published by Bethany House Publishing, a division of Baker Publishing Group
PO Box 6287 Grand Rapids MI 49516-6287
Used by permission. All rights reserved. No part of this publication may be reproduced, stored in a retrieval system or transmitted in any form by any means, electronic, mechanical, photocopy, recording or otherwise, without the prior permission of the publisher, except as provided for by USA copyright law.


Have something to say about this article? Leave your comment via Facebook below!
advertise with us
Example: "Gen 1:1" "John 3" "Moses" "trust"
Advanced Search
Listen to Your Favorite Pastors