A Promise to Remember
Kathryn Cushman, Author
Thursday, November 01, 2007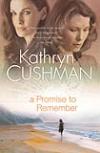 In Him, Jake Sterling
"Well, Mr. Sterling, it might give you comfort to think of seeing Jeff in heaven some day, but I want him here." She wanted to shred the note and mail it back to the man, but she knew his words mirrored Jeff's own beliefs. Besides, if she destroyed all the cards that said something similar, what would become of Jeff's memorial?
She looked at the length of twine she'd strung across his room. The middle sagged from the weight of so many cards.
Jeff would be so happy to see this. To see how his life affected so many others. He never understood how much everyone loved him. "Can you see this Jeff?"
The yellowed ceiling paint responded with silence.
Her gaze turned to the walls. Posters of sailboats with colorful sails puffed out like crescent moons, expansion bridges lit with thousands of white bulbs, and Harley Davidson motorcycles rolling past the ocean, filled every spare inch. Jeff had always been drawn to physics and mechanics. Now his dreams were gone like the puffs of wind pushing the sailboats.
Melanie sank back into her seat, intent on finishing her task before Sarah returned home from her sleepover with the youth group girls. Melanie had to admit, for a bunch of fifteen- and sixteen-year-olds, they had circled their wagons around Sarah, keeping her busy and supported. She was glad Sarah found a source of relief there, although she knew Sarah's wounds went deeper than her daughter would ever show.
Melanie strung up a second line, parallel with the first, and sat back down to her stack of envelopes. She didn't recognize the name on the return address.
Dear Mrs. Johnston,
Are your funeral bills piling up? Do you need help fighting the legal establishment? We at
Fraker, Fritz, and Krutenat offer full legal service to victims like you. Let us help you get the cash you deserve!
Don't delay, call today!
At the bottom was blue computer printing, designed to look like a handwritten signature. What kind of jerk sent a card like this?
This time, she didn't restrain herself and tore the letter to bits. She threw the shreds in the trash and went on to the next.
Fifteen cards later, she picked up a taupe-colored envelope that felt heavy, almost like linen. There was no return address.

Dear Mrs. Johnston,
I am sorry for your loss.
Les Stewart
555–9553
Les Stewart. The name sounded vaguely familiar. Then she remembered the recent news story. He was some big-shot attorney from Los Angeles who had recently moved to Santa Barbara to retire. Why would he send her his phone number? His clients were movie stars and big business men.
Melanie started to hang the note on the line, but it didn't honor Jeff in any way. She placed it back in its envelope and tossed it in the trash.
After she'd finished the complete stack, she walked into the kitchen, poured a strong cup of coffee, grabbed scissors, and sat down with the paper. Six days had passed since the crash. The articles were less frequent and less obvious now. She turned the pages over slowly, not wanting to miss anything.
There. A tiny article about Jeff's work tutoring underprivileged kids while attending college in San Luis Obispo. She lifted her scissors and began to cut, taking pains to be precise. She didn't want to miss one letter of a story about her son.
When she finished, she grabbed the scrapbook, which always sat in Jeff's empty chair at the table, and anchored the article inside, another page in his memory. She read it through once more, choking back a spasm of sobs when she read the quote of a boy Jeff had helped—"He was the only one who cared."—before closing the book, and returning it to its place.
Only then did she continue through the rest of the paper for anything else of interest. The story waited for her on the back page. A half-page article, complete with photo, of the boy who had taken Jeff's life.
Have something to say about this article? Leave your comment via Facebook below!
advertise with us
Example: "Gen 1:1" "John 3" "Moses" "trust"
Advanced Search
Listen to Your Favorite Pastors