A Sister's Secret
Wanda E. Brunstetter, Author
Wednesday, December 05, 2007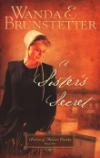 "Are you wishing you could help bake?"
Ruth shook her head and turned the horse and buggy down the back road heading toward their home. "Not really. I'll be happy to keep waiting on customers until I get married some day. Raising a family is my life's dream." Ruth glanced over at Grace. "Of course, I'll have to find a husband first."
"What about Luke Friesen? You think things might get serious between the two of you?"
"I don't know, maybe. For now I'm going to concentrate on my new job." Ruth smacked her lips. "Just thinking about all those delicious pastries and pies at the bakeshop makes me hungry."
"I'm sure Mom will have supper started by the time we get home, so you'll be eating soon enough."
"Speaking of Mom, I heard her mention the other day that she'd like for the two of you to get busy on your wedding dress soon."
Grace nodded and turned toward the window. Was she staring at the vibrant fall colors on the trees lining the road, or was she trying to avoid conversation?
"Do you still want me to help with the flowers for your wedding?" Ruth questioned.
"Jah, sure."
"You'll need several fresh arrangements on the bridal table, and I'm thinking maybe one big bouquet in the center of each of the other tables would look nice."
"Uh-huh."
"Will you want some candles, too?"
Grace nodded.
"Since Cleon's mother and sister make beeswax candles, I'm sure they'll want to provide those."
"Maybe so."
"I hope Cleon knows how lucky he is to be marrying my big sister."
"I–I'm the lucky one." Grace picked at her dark green dress as if she noticed a piece of lint, but Ruth didn't see anything. Of course, she couldn't look too closely as she had to keep her eyes on the road. Just last week, a buggy coming down one of the hills on this stretch of road between Berlin and Charm had run into a deer.
Grace sighed, and Ruth gave her a sidelong glance. If something was bothering Grace, she would talk about it when she was ready. In the meantime, Ruth planned to enjoy the rest of their ride home. Shades of yellow, orange, and brown covered the birch, hickory, and beech trees, and leaves of red and purple adorned the maple, oak, and dogwood. A dappling of sunlight shining through the trees gave her the feeling that all was right with the world—at least her little world.
Cleon Schrock stepped up to the counter near the front of the restaurant where Grace worked and smiled at Sarah, the owner's daughter. "I came to town on business about my bees, so I decided to stop and see Grace. Would you tell her I'm here?"
Sarah shook her head. "Sorry, but Grace got off work about ten minutes ago. Said something about meeting her sister, who had an interview at the bakeshop."
"Okay, thanks." As Cleon turned toward the door, he felt a keen sense of disappointment. He hadn't seen Grace since the last preaching service, and that had been over a week ago. "Have a good evening, Sarah," he called over his shoulder.
"You, too."
Cleon opened the front door, and just as he stepped out, he bumped shoulders with a tall, red-haired English man. The fellow held a fancy-looking camera in one hand and a notebook with a chunky green pen clipped over the top in the other. "Sorry. Didn't realize anyone was on the other side of the door," Cleon said with a shake of his head.
"Not a problem. As long as you didn't ruin this baby, no harm was done." The man lifted his camera. "She's my bread and butter these days."
Cleon stood, letting the man's words sink in. "Are you a newspaper reporter?"
Have something to say about this article? Leave your comment via Facebook below!
advertise with us
Example: "Gen 1:1" "John 3" "Moses" "trust"
Advanced Search
Listen to Your Favorite Pastors