A Sister's Test
Wanda Brunstetter, Author
Saturday, May 17, 2008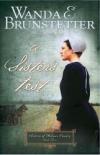 EDITOR'S NOTE: The following is an excerpt from A Sister's Test by Wanda Brunstetter (Barbour Publishing).
Chapter 1
Ruth, watch out! Get out of the way!"
Ruth Hostettler halted. A hammer slid down the roof of her sister's new house. "Ach!" She jumped back as it bounced off the sheets of plywood, just missing her head.
Martin Gingerich scrambled down the ladder and rushed to her side. "Are you okay, Ruth?"
Ruth nodded as she looked up at his strong, handsome face. She saw tenderness there, and something more. Did she dare believe he might be falling in love with her?
Her heart pounded like a blacksmith's anvil as Martin pulled her to his side.
"You need to stay away from the work site. It's too dangerous." His hazel-colored eyes were wide with obvious concern.
"I—I was coming to see if the workers wanted something to drink."
Martin wiped the rivulets of sweat running down his forehead; then he bent to pick up the hammer lying in the dirt near Ruth's feet. "I think we could all use a break." He leaned his head back and stared at the roof. "Luke most of all, since he's the one who lost his grip on that hammer."
Ruth's gaze followed Martin's. Luke Friesen sat near the edge of the roof, shaking his head. "Are you all right, Ruth?"
"I'm okay. Just a bit shook up."
"I thought I had a good grip, but that hammer slipped right out of my hand."
"You need to be more careful!" Martin's harsh tone took Ruth by surprise. Usually he was very soft-spoken.
"Jah, well, she shouldn't have been standing where she was. The work site's no place for a woman." Luke grunted. "Hand me that hammer, would ya, Martin?"
"Why don't you come down and take a break? Then you can get the hammer yourself."
"Guess I will."
As Luke descended the ladder, Martin smiled at Ruth, lifted his straw hat, and brushed back his coffee-colored hair. "Would you like me to go with you to get something to drink for the workers?"
"That would be nice." Ruth appreciated Martin's kindness. In all the time she and Luke had courted, Luke had never offered to help with anything. For that matter, he'd never shown much concern for her welfare, not even when her family's home had been broken into and other acts of vandalism had taken place. Instead, Luke had admitted to Ruth that he owned a truck he kept hidden in the woods and made her promise not to tell anyone. On several occasions, he'd acted as if he might be hiding something. Ruth was sure she'd done the right thing by breaking up with him. Having Martin as a suitor made her happier than she'd ever been during her courtship with Luke.
"I'm glad you weren't hit by Luke's hammer," Martin said as they started for the house. "It's bad enough that your sister and her husband lost their home in that horrible fire a few weeks ago. The last thing we need is for anyone to get hurt today."
Ruth nodded. "We were all relieved that nobody was hurt in the fire. I know Grace and Cleon appreciate all this help building their new home. This is the second Saturday in a row that they've had a large crew working on it."
"That's what friends and family are for."
Martin's dimpled smile made Ruth feel tongue-tied and tingly. She hadn't felt like that when she and Luke were together. More than anything, she'd felt irritated the last few months they'd been courting.
Have something to say about this article? Leave your comment via Facebook below!
advertise with us
Example: "Gen 1:1" "John 3" "Moses" "trust"
Advanced Search
Listen to Your Favorite Pastors