Adrian Rogers Biography Penned by Wife
Erin Curry Roach, Baptist Press
Wednesday, January 11, 2006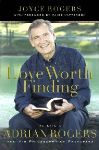 NASHVILLE, Tenn. — There is no better expert on the late Adrian Rogers than his wife and lifelong sweetheart, Joyce, who through grade school, high school, college and 54 years of marriage experienced the highs and lows of life alongside him and was the sounding board for his deepest thoughts.
She has recorded her unique perspective in "Love Worth Finding: The Life of Adrian Rogers and His Philosophy of Preaching," a biography released by Broadman & Holman Publishers prior to Rogers' death Nov. 15 after a battle with cancer and pneumonia.
Joyce Rogers lovingly recounts her husband's beginning in the ranks of the ordinary, where in junior high school he was known as "unruly and belligerent."
"He had an overdose of courage and the ability to fight with his fists," she wrote. "He had gained a reputation of being one of the toughest kids in school. He would challenge others to a fight just for an expression of what must have been an inner turmoil."
The third child of working-class parents, Rogers yielded his life to Jesus at age 14 after some neighbors invited his family to a crusade at a local Baptist church in his hometown of Palm Beach, Fla. Rogers followed his father down the aisle and made a profession of faith, and his life was immediately changed.
"Adrian often has said that if it were not for Jesus and His transforming grace that he would not be a nice person to live with and may have even ended up in prison," Joyce wrote.
Rogers was captain of his high school's championship football team and received several honors including a scholarship to play at Stetson University in Florida. Yet during those years, he sensed God was calling him to preach.
"When I was younger attending Sunday School, I was asked by the teacher to lead in prayer," he said in the book. "I felt so inadequate that I declined to do so. This embarrassed my teacher and me. I was not afraid of much that moved on the football field, but the thought of public speaking or praying was another matter. I did not think of myself as having any verbal gifts at all."
Joyce was standing by Rogers' side the night he stepped forward during a retreat at Ridgecrest, the LifeWay conference center in North Carolina, to publicly declare that God had called him to preach the Gospel.
"He recalls I squeezed his hand as we walked out of the meeting that night indicating that I was pleased with his decision," she wrote.
After Rogers dropped love notes on her desk in sixth grade and courted her through high school, Joyce and Adrian were married in 1951 following their freshman year of college. In the book, Joyce recounts his first pastorate, at First Baptist Church of Fellsmere, Fla., which he took at just 19 years of age.
"The Fellsmere church was rustic, to say the least," she wrote. "The building had an unpainted concrete floor, unpainted cement block walls, and no ceiling. Rafters cut from rough lumber were overhead. The building was lighted with bare bulbs dangling by their cords from the ceiling. The pews were not pews at all, but two two-by-eight boards connected by an iron bracket – one to sit on and one to lean back on. There was no running water, no baptistery, and no water fountain. Those who needed a restroom walked across the street to a neighbor's house."
But Rogers pressed on, and at each church he pastored there was record growth because of his insistence on preaching the Word of God and lifting up Jesus.
After years of being faithful at smaller churches, he was pursued by the pastor search committee of Bellevue Baptist Church in Memphis. Having grown to love the people he was serving at First Baptist Church in Merritt Island, Fla., Rogers told the committee, "I'm honored that you would be interested, but I've absolutely no inclination to leave my present pastorate."
Have something to say about this article? Leave your comment via Facebook below!
advertise with us
Example: "Gen 1:1" "John 3" "Moses" "trust"
Advanced Search
Listen to Your Favorite Pastors