"An Invitation to Pray and Worship" - Book Review
Tracy & C.J. Darlington

Book Reviewers

2004

6 Jan

COMMENTS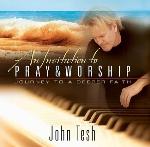 Author:      John Tesh
Publisher:  J. Countryman
Graphically intensive with lush color photographs, the book comes with a CD of 10 original songs, mostly of John Tesh's instrumental piano pieces. Try playing it while reading, and by the time the CD is over, you'll have finished the book.
In everyday language Tesh doles out personal vignettes, such as how he started leading worship in his San Fernando Valley church and what inspired him to record his album "A Deeper Faith" (Garden City Music). He also offers tidbits of advice on prayer and worship that leave the reader hungry for more.
While this book is far from meaty (many pages have only a gorgeous nature photograph and a Scripture), it's still sure to please fans and those looking for some light soul food.

© 2003 CCM Magazine.  All rights reserved.  Used with permission.  Click here to subscribe.