Are You Fit for Life?
Jack Graham, Author
Tuesday, March 18, 2008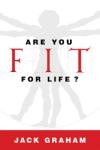 EDITOR'S NOTE: The following is an excerpt from Jack Graham's Are You Fit for Life? (Crossway Books).
Chapter One: What Matters Most
You may remember a time when our nation's obsession with fitness was considered a craze, just a fad. The media even used the term fitness craze to describe what was then a new trend in terms of people's awareness about the importance of being fit and their determinations to eat a healthy diet and exercise regularly.
Well, I think you'll agree with me that America's obsession with fitness is more than a passing fad. In fact, it has gone from a passing fad to passing legislation, as New York City did with its new law to ban the serving of trans fats in its restaurants. We also have evidence of the seriousness of this commitment to fitness. As I write this, the cancer center at one of Dallas's largest hospitals is setting up a workout center in what used to be just a reading room full of literature on cancer and the various treatments available.
A cancer patient who noticed all of the expensive new workout equipment—which included treadmills, step climbers, stationary bikes, and a scale—asked her physician what was happening. The physician explained that the doctors had donated their own money to purchase the equipment and were going to offer free exercise and diet classes to help their patients get into shape. That's a great thing, because for cancer patients being fit is not only a good option to being out of shape or overweight—it can help them fight and survive their disease.
The truth is that being fit for life is a serious matter for all of us. And the good news is that the Bible has a life-changing message for us on this issue, because no one is more concerned about our physical, mental, emotional, and spiritual fitness than the God who made us and redeemed us. He even gave us a "fitness manual" in His Word—the apostle Paul's letter to his beloved friends at the church he founded in Philippi. My purpose in this book is to help you understand and apply the truths of the book of Philippians in a way that will truly help you be fit for life.
Most of us aren't accustomed to thinking of Paul as a fitness guru. But he was, at least according to the definition of fitness I gave you above. For instance, it was Paul who taught us that our bodies are the temple of the Holy Spirit (1 Corinthians 6:19) and therefore not to be defiled. And Paul took his own advice as a man who disciplined his physical appetites so he wouldn't fall into sin and be disqualified from receiving God's prize (1 Corinthians 9:24–27).
Paul also understood the importance of good emotional fitness, thanking the "God of all comfort" (2 Corinthians 1:3) for the way He comforted and sustained him in all of his trials. Paul is often characterized as a hard-driving, Type A personality who didn't let anything bother him. But as we'll see, he was a very tenderhearted man who loved his fellow Christians like a father. In fact, the book of Philippians is something of a spiritual valentine, if you will, in which Paul expressed his deep love and affection for believers serving Christ in a very important region of the world.
Paul was also intellectually fit. He was a scholar of the first rank, and his exhortation to Timothy has become the goal of every sincere servant of God: "Study to show thyself approved unto God, a workman that needeth not to be ashamed, rightly dividing the word of truth" (2 Timothy 2:15, KJV). To the great apostle, the Christian faith was a body of teaching to be studied, diligently absorbed into the mind, and taught with faithfulness and accuracy. Paul's entire ministry of proclaiming the gospel of Jesus Christ serves as evidence for his concern for spiritual fitness.
Have something to say about this article? Leave your comment via Facebook below!
advertise with us
Example: "Gen 1:1" "John 3" "Moses" "trust"
Advanced Search
Listen to Your Favorite Pastors