Are You Fit for Life?
Jack Graham, Author
Tuesday, March 18, 2008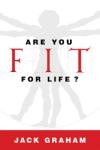 The physical circumstances under which Paul wrote to the Philippians are worth mentioning because he was in a place that was nothing but harmful to his health. He wrote this letter from a Roman prison—a filthy dungeon with zero physical comforts. He was in a damp, dark, cold cell and was probably chained to the wall as well. But even though Paul was, many Bible scholars believe, a rather small, slightly built, middle-aged man with physical problems, he was far more fit for life than the physically fit Roman soldiers who guarded him. So he has much to say about being fit for life.
If we are going to be at our best, we need to get into the best physical, emotional, mental, and spiritual shape possible. The place to begin is with our relationships—with Jesus Christ first of all and then with family and friends and the fellowship of God's church. Paul knew what matters most. So he began his letter to the Philippians by identifying both himself and his readers in terms of their relationship with Christ: "Paul and Timothy, servants of Christ Jesus, to all the saints in Christ Jesus who are at Philippi" (1:1–2).

Your Relationship with Jesus Christ

Paul identifies himself as a "servant," or slave, of Christ. The apostle was so totally sold out to Jesus that he could say, "for to me to live is Christ, and to die is gain" (Philippians 1:21). This is a critical point for all believers. Everything in life begins here. Jesus is our very life, and we are to serve Him because He has captured our hearts.
To become a child of God, you do have to become a saint. Most people have been conditioned to think that a saint is someone who has achieved a lofty spiritual status or has been canonized for doing good works or even performing miracles. But that's not how the Bible uses this word. A saint is simply a true believer, a person who has been born into the family of God through faith in Jesus Christ.
Therefore saints aren't made, they're born from above in the new birth. That's why we can say when it comes to your relationship with Christ, you're either a saint or you ain't. The word saint means "a set apart one," a person who has been chosen by God and called for His purposes. This applies to every believer. So instead of being something mystical or super-spiritual, saint is a very basic description of our life in Christ. God has set us aside for an eternal purpose, which means we can live with passion.
What matters most of all, then, is whether you have trusted Christ and His finished work on the cross for your salvation or whether you are trying to please God by being a good person. If it's the latter, I urge you to put this book down right now and trust Christ alone to forgive your sins and come into your life and give you eternal life—and He will! Trying to be fit for life without knowing Jesus as your Savior is like trying to work out while wearing shoes and gym clothes that are about three sizes too small. Life will never work out without Jesus.

Your Relationship with Others

The recipients of Paul's letter in Philippi were true saints of God, Paul's own spiritual children whom he had led to Christ. So he writes to them with genuine affection:

Grace to you and peace from God our Father and the Lord Jesus Christ. I thank my God in all my remembrance of you, always in every prayer of mine for you all making my prayer with joy, because of your partnership in the gospel from the first day until now. And I am sure of this, that he who began a good work in you will bring it to completion at the day of Jesus Christ. It is right for me to feel this way about you all, because I hold you in my heart, for you are all partakers with me of grace, both in my imprisonment and in the defense and confirmation of the gospel. For God is my witness, how I yearn for you all with the affection of Christ Jesus. (Philippians 1:2–8)

These Christians were on Paul's mind and in his heart. He understood the importance of the love relationship we are to have with one another in the church, the body of Christ. When you belong to Christ, you also belong to everyone else who belongs to Christ.
Have something to say about this article? Leave your comment via Facebook below!
advertise with us
Example: "Gen 1:1" "John 3" "Moses" "trust"
Advanced Search
Listen to Your Favorite Pastors