Are You Fit for Life?
Jack Graham, Author
Tuesday, March 18, 2008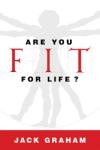 The sooner we realize that we can't go it alone, the better off we're going to be because the Christian life was never meant to be a solo act. Millions have watched the television program American Idol. Early on in the competition there is a tryout phase. The vast majority of the thousands of people they bring onto the stage can't sing at all. After hearing them, the question that comes to the mind of the viewer is, "Where did these people get the idea that they could sing?"
The contestants on American Idol are trying to go it alone, and a few make it. But while performing solo may be okay for a musical career, it's no way to live. The work of Jesus Christ advances on a network of relationships among believers who are partners in life. It is because of our fellowship in Christ that we are able to advance the gospel to the world. Without a doubt, the people who make the greatest difference for Christ are the people who know how to love Him and other people with all their hearts.
Paul basically told his friends at Philippi, "I thank God every time I think about you" (1:3). I wonder what our fellow believers say when they think about us. Do they thank God for us because of our love and commitment?
Do you seek healthy relationships by loving and serving others more than yourself? That's a pretty convicting question, and someone might respond, "You don't know the kind of people I have to put up with in my life. They aren't all nice, lovable people like the saints at Philippi probably were." I know people can be difficult, and even our friends at church can be exasperating at times.
The church of Jesus Christ is a real blend of people from all strata and seasons of life. But it's always been that way. Consider the people at Philippi. Acts 16:11–40 is the story of Paul's first visit to this Roman province in Macedonia and the founding of the church there.
The first conversion in Philippi was that of Lydia, a wealthy businesswoman who became a follower of Jesus along with her household (vv. 13–15). Another new believer was a demonized slave girl who was being used by her masters to bring in a profit by fortune-telling (vv. 16–19). Then a hardened Roman jailer was miraculously transformed by God's grace, and he and his entire family believed and were baptized (vv. 31–34).
This sampling of the church represents a broad cross section of people who have one thing in common—their relationship with Jesus Christ.
These very different men, women, and children were now in the spiritual family of Jesus Christ. This is the church, God's family together in Christ. Note the emphasis on the local church in this passage. The New Testament teaches the universal brotherhood of believers, the worldwide family of God. But sometimes it's easier to love your brothers and sisters on the other side of the world, whom you've never met, than it is to love those on the other side of the church aisle whom you meet every week. While we are part of the church global, we are to experience the church local.
My point is that the Bible doesn't let us hide behind the idea of, "Oh yes, I love the body of Christ around the world" while we're not relating properly to the people in our own community of faith. At least 90 percent of the time the New Testament uses the term church in reference to a specific local body of believers. Paul didn't just write to the church at large, but to the churches in Philippi, Ephesus, Corinth, Galatia, and so on.
The two things emphasized in Philippians 1:2–8 were the love and affection of God's people for one another and their witness of the gospel. When it comes right down to it, love is what matters most because Jesus said that "the great and first commandment" is to "love the Lord your God with all your heart and with all your soul and with all your mind." Then He gave the second most important commandment: "love your neighbor as yourself" (Matthew 22:37–39). Jesus concluded this teaching by saying in verse 40, "On these two commandments depend all the Law and the Prophets." This is what matters most.
Have something to say about this article? Leave your comment via Facebook below!
advertise with us
Example: "Gen 1:1" "John 3" "Moses" "trust"
Advanced Search
Listen to Your Favorite Pastors