Are You Fit for Life?
Jack Graham, Author
Tuesday, March 18, 2008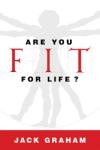 "He who began a good work in you will bring it to completion at the day of Jesus Christ" (Philippians 1:6). That's an eternal promise you can trust every day. When Christ comes for you, be prepared for that moment and for your life with Him in heaven.
How is this possible? Not because of what we have done, but because of what Christ is doing in us. God always finishes what He starts, and because God has started the good work of salvation in you, He will bring it to completion. This should give you real hope as you seek to grow in your relationship to Christ through His Word, prayer, worship, service, witnessing, and the other disciplines of the Christian life. Do we fail and feel like giving up sometimes? Of course we do. But the promise of God's Word is that He will never give up on us.
Now understand that it takes patience to grow in Christ. I love the commercial of an overweight man who goes to the gym to get in shape. He gets on the scales to check his weight, gets off and runs around the room for a few seconds, then steps back on the scales and sighs when he sees that he hasn't lost any weight.
That's often the way we are in our relationship with Christ. We jog through a few Bible verses a couple of times a week, shoot up a quick prayer or two, and then wonder why we're not in better spiritual shape. But God's plan for us, like a good exercise and diet plan for our bodies, involves daily discipline. Stay with it, and soon people will be saying to you, "You're different; you've changed. God must be doing something in your life."

Grow in Your Love
If you get nothing else from this book, I pray you will make the discovery that the Christian life is not a self-improvement or do-it-yourself project, but a matter of allowing Christ to take control of your life. The real joy is growing in Christ and communing with Him in a growing relationship of love and intimacy. That's what God desires for you. Paul prayed that the love of the Philippians would "abound more and more" (1:9).
Love that abounds is love that overflows to others. The difference between the love taught in the Bible and the kind the world talks about is that the love of Christ is a choice of the will, not simply a warm, fuzzy feeling we can't control. You don't fall in love accidentally. You grow in love toward God and toward others as a decision of your will.

Guard Your Mind
Another way to grow in your relationships is to guard your mind. For instance, even as we show love freely to others, it is not to be foolishly or blindly given. After Paul prayed that the Philippians might have abounding love, he added, "with knowledge and all discernment" (1:9). Our love for Christ includes loving the truth. Love that is out of control does not become a flowing river of blessing but a stagnant swamp. The two banks between which the river of our love must flow are knowledge and discernment.
The world sings songs that ask, "How can it be wrong when it feels so right?" But the answer of God's Word is that love or anything else can be wrong if it goes outside the boundaries of God's will and God's Word. As we relate to God and to others in love, we need to make sure that our love is according to the truth. When you give your heart, that doesn't mean you lose your head. Nor do we ever compromise God's Word in the name of love.

Give Your Best
Paul ended the first section of Philippians 1 with these words: "So that you may approve what is excellent, and so be pure and blameless for the day of Christ, filled with the fruit of righteousness that comes through Jesus Christ, to the glory and praise of God" (vv. 10–11).
These verses speak of the importance of excellence in what we do for Christ, both in our personal lives and as we relate to others. The way we "approve what is excellent" is to encourage one another to engage in love and good deeds, as the Bible says in Hebrews 10:24. When we are giving our best for Christ and are urging and helping each other to do the same, we will produce "the fruit of righteousness."
Have something to say about this article? Leave your comment via Facebook below!
advertise with us
Example: "Gen 1:1" "John 3" "Moses" "trust"
Advanced Search
Listen to Your Favorite Pastors